Intermix.org.uk is a website for the benefit of mixed-race families, individuals and anyone who feels they have a multiracial identity and want to join us.

Our mission is to offer a view of the mixed-race experience, highlighting icons, film, books, poetry, parenting techniques, celebrities, real lives and much more.

Our online forums are a great place to meet others, ask questions, voice your opinions and keep in touch. Sign up for our monthly newsletter and delve into our pages.

Want to join in? Become an Intermix member to take part:




Barack's The One To Watch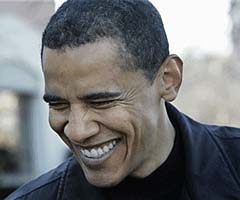 Could he go all the way to the White House?

Senator Barack Obama, the son of a Kenyan father and white Kansan mother, was born in Hawaii. He is a graduate from Harvard Law School, where he was the first African American president of the Harvard Law Review.

He's already got a number of successes under his belt. During his seven years in the Illinois state Senate, Barack worked with both Democrats and Republicans to help working families get ahead by creating programs like the state Earned Income Tax Credit, which in three years provided over $100 million in tax cuts to families across the state. Barack also pushed through an expansion of early childhood education, and after a number of inmates on death row were found innocent, Senator Obama enlisted the support of law enforcement officials to draft legislation requiring the videotaping of interrogations and confessions in all capital cases.

The 43-year-old Senator recently made his intentions to run as a presidential candidate clear when he filed paperwork forming a presidential exploratory committee that allows him to raise money and put together a campaign structure. He is expected to announce a full-fledged candidacy on Feb. 10 in Springfield, Illinois.
Despite Barack being of mixed racial heritage, America's 'One Drop Rule' means that he will be seen as a Black contender for the president and so far he's not corrected anyone and assumed his mixed-race status. Many feel that this is because he wants to secure the Black vote and and describing himself as biracial could alienate him from his Black supporters.
However, his mixed racial background could be what is giving him such appeal with white voters, who feel they can give themselves a pat on the back if he succeeds, that America can let go the legacy of its racist past.

Stacy Thompson, an Oakland college educator who works on mixed-race issues, says in her experience, people of combined Caucasian and black heritage are more easily accepted by white Americans.

Whilst Harry Belafonte, the singer-activist who called Colin Powell and Condoleezza Rice 'house slaves' on the Bush plantation, says America needs to be 'careful' about Obama, according to the London Times: 'We don't know what he's truly about.' The London Times headlined that story, 'Obama's Charm Lost on America's Black Activists.'

And the mud-slinging has already started, an online article begins: 'Are the American people ready for an elected president who was educated in a madrassa as a young boy and has not been forthcoming about his Muslim heritage?' It continues: 'This is the question Senator Hillary Rodham Clinton's camp is asking about Senator Barack Obama.'

Whilst the American public might be able to live with the fact that some Black blood runs through your veins, being a Muslim at any time in your life might in the present political climate be too much and other candidates such as Hillary Clinton will be sure to use such facts against you.

Win or lose, Barack Obama now faces the big questions, like what does he stand for? Can he take the heat and go the distance of a rigorous campaign and does he have enough experience?

Ten things you may not know about Barack Obama:
Dreams of my Father by Barack Obama:

Mixed-race icons: Barack Obama:

Visit Barack Obama's Website:
Source: