Intermix.org.uk is a website for the benefit of mixed-race families, individuals and anyone who feels they have a multiracial identity and want to join us.

Our mission is to offer a view of the mixed-race experience, highlighting icons, film, books, poetry, parenting techniques, celebrities, real lives and much more.

Our online forums are a great place to meet others, ask questions, voice your opinions and keep in touch. Sign up for our monthly newsletter and delve into our pages.

Want to join in? Become an Intermix member to take part:




Barack Obama - President of the United States of America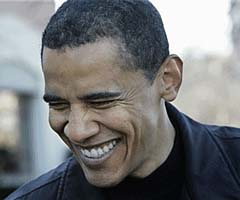 The News Statesman named him as one of ten men who could change the world and now he is in the White House.

The son of a Kenyan father and an American mother, Barack Hussein Obama was born on the 4th August 1961, in Honolulu, Hawaii.
His parents were both students at the University of Hawaii and when his father left for Harvard, Obama who was too young to choose for himself stayed with his mother. His father eventually returned to Kenya and became a government economist.

His mother married an Indonesian oil manager and the new family moved to Jakarta when Barack was six. Four years later Barack returned to Hawaii where he was brought up largely by his grandparents. The family lived in a small apartment--his grandfather was a furniture salesman and an unsuccessful insurance agent and his grandmother worked in a bank.

Barack managed to get into Punahou School, Hawaii's top prep academy. His father wrote to him regularly but visited his son only once, when Barack was ten. His father died in a car accident in Kenya when Obama was 21 years old.

Obama attended Columbia University, where he majored in political science with a specialization in international relations. After receiving his Bachelors of Arts degree in 1983, Obama worked for one year at Business International Corporation. He then attended Harvard Law School, and in 1990 became the first African-American president of the Harvard Law Review.

He turned down a prestigious judicial clerkship, choosing instead to practice civil-rights law back in Chicago, representing victims of housing and employment discrimination and working on voting-rights legislation. He also began teaching at the University of Chicago Law School. Eventually he ran as a Democrat for the state senate seat from his district, which included both upscale Hyde Park and some of the poorest ghettos on the South Side, and won.
In 1995 Barack published Dreams of my Father - A Story of Race and Inheritance, his personal memoir, which describes his experiences growing up in his mother's white American middle class family and his search for his African roots. His mother died of cancer a few months after its publication.

In 2004 Obama was elected to the U.S. Senate as a Democrat, representing Illinois, and gained national attention by giving a rousing and well-received keynote speech at the Democratic National Convention in Boston.

On 10th Febuary 2007 Barack Obama announced his intentions to run as a presidential candidate in 2008, the rest is history. MIXED-RACE HISTORY!
Ten things you may not know about Barack Obama:
Dreams of my Father by Barack Obama:

Related news story: Barack's the One to Watch: