Intermix.org.uk is a website for the benefit of mixed-race families, individuals and anyone who feels they have a multiracial identity and want to join us.

Our mission is to offer a view of the mixed-race experience, highlighting icons, film, books, poetry, parenting techniques, celebrities, real lives and much more.

Our online forums are a great place to meet others, ask questions, voice your opinions and keep in touch. Sign up for our monthly newsletter and delve into our pages.

Want to join in? Become an Intermix member to take part:



Halle Bonds With Barak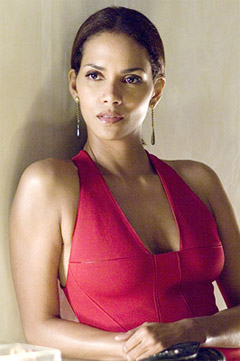 I really connect to his ability to see the world in a colour-blind way.

Halle Berry has just finished reading The Audacity of Hope, the latest offering from Barak Obama the mixed-race senator who wants to be America's next president. The 40-year-old Oscar winner feels a bond with Hollywood's new leading man and was especially moved by passages relating to Obama's racially mixed background, one that mirrors her own.

That bond grows stronger as Halle watches Barak's race credentials scrutinized by essayists such as Stanley Crouch and Debra Dickerson, who wonder whether Barak's Kenyan father leaves the candidate disconnected from the legacy of American slavery.

'I read that and I felt, dammit, here we go again,' said Halle, who heard similar sentiments after she won the Best Actress Oscar for Monster's Ball.
'I remember after I won the Academy Award, some people said, Well, she's not really the first black actress to win.'
'I know that Barak is a black man, and I know why he feels like that, because look at him - he's lived his whole life treated as one,' said Halle

'Then, when wonderful things begin to happen, people want to deny him of who he is, and question his identity. So I do relate to him on that level.'

Being seen as a black woman is something that Halle has become used to living in America, yet the concept of being a mixed-race woman is beginning to feature more in her interviews. Maybe things are not as black and white as they might seem.

Halle recently told the Philadelphia Enquirer: 'Being a mixed-race child, I didn't always see colour in people, I really didn't,' she says. 'It was other people that made me see the colour all the time. But, left to my own devices, I grew up very much colour-blind. Then I got old enough for other kids to start contaminating the way I thought.'

It's due to that unique perspective - the ability to experience life in a racial or a race-neutral way - that she believes she understands Barak.

'I get how you can see the world that way, and how that could help you get to the things that matter in this life and in our politics,' she said. 'I really connect to his ability to see the world in a colour-blind way.'

The mixed-race experience is actually very close to Halle's heart, with two of the projects she's presently involved in having a mixed-race theme. Compositions in Black and White, is a biopic Halle is producing starring Alicia Keys and based on the life of mixed-race child protégé Phillipa Duke Shuyler and she's also developing a comedy series entitled Mixed for HBO based on the real life memoirs of 'Scrubs' scribe Angela Nissel. The series focuses on a mixed-race woman and her two friends as they tackle racial and financial issues post-college.

'It's about growing up mixed-race,' Halle says. 'I think it's timely right now. We're all sort of becoming more tolerant of each other. It feels like with this new generation, they're not having some of the issues that I know I had when I grew up, and that my parents had.'

Halle is currently promoting her latest movie Perfect Stranger, in which she stars alongside Bruce Willis as Ro, a woman who gets caught up in the world of obsessive love on the Internet when she goes undercover to crack the case of her friend's murder.

Source:bbc.co.uk