Intermix.org.uk is a website for the benefit of mixed-race families, individuals and anyone who feels they have a multiracial identity and want to join us.

Our mission is to offer a view of the mixed-race experience, highlighting icons, film, books, poetry, parenting techniques, celebrities, real lives and much more.

Our online forums are a great place to meet others, ask questions, voice your opinions and keep in touch. Sign up for our monthly newsletter and delve into our pages.

Want to join in? Become an Intermix member to take part:




Phillipa Duke Schuyler - Child Prodigy - (1931 - 1967)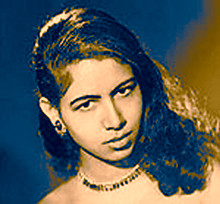 'In America, I can pretend I'm Oriental or a Latin... In England they're prejudiced against Orientals and Latins - so there is no hiding place for me'

Phillipa Schuyler was born to George Schuyler, a black journalist and writer and Josephine Codgell, the youngest of a wealthy white Texas family. Her parents believed that a product of an interracial union would prove that interracial children represented the solution to America's race problems. Phillipa was brought up on a specific diet of raw vegetables, fruit and raw meat and was raised in an almost scientific environment where detailed journals were kept on her progress.

Aged four weeks old, she began to crawl, four months, sitting and standing on her own, eight months, had taken her first steps and at two and a half, was able to read and write. She was a pianist at four and a composer at five. By the time she had reached age ten, Phillipa had won in excess of twenty awards.

During her life, Phillipa won great acclaim as a concert pianist in the USA, Europe, and Africa. Her audiences abroad included, Emperor Haile Selassie of Ethiopia, Kwame Nkrumah of Ghana, George Rudiki II of Ashanti (Ghana), and Queen Elisabeth of Belgium.

In her twenties (by now a well seasoned traveller), she began to struggle with the racial climate in the USA. She was playing to racially segregated audiences. Phillipa decided to change her identity. Whilst in Rwanda, she tried an experiment. On her entry form, she wrote 'white' under 'race', 'just to see if I could get away with it', she said. She did. As a result of this, she even travelled briefly to apartheid South Africa; there she quickly became the darling of white society music lovers!

She had changed her name to Felipa Monterro y Schuyler and applied for a passport in that name, thus suggesting an Iberian/American heritage. Phillipa's official surname now became Monterro. Interestingly enough, Phillipa found 'passing' in England impossible. She said, 'I can't pass here as I can elsewhere. In Southern Europe I look like one of them, for so many of them are dark. In America, I can pretend I'm Oriental or a Latin... In England they're prejudiced against Orientals and Latins - so there is no hiding place for me'.

By 1966, Phillipa had ceased using the name of Felipa Monterro. The charade had proven unsuccessful.

In the summer of 1966, she went to Vietnam, where she worked as a journalist. She felt a kinship with the Vietnamese and could relate both to their pale coloured skins and living in a country that had known no peace for almost thirty years. Phillipa had carried the resentment from her parents' scientific experiment well into her adult life, but finally began to accept herself whilst in Vietnam. She found the American soldiers did not accept her; she was not
white and so was treated with disdain. She also witnessed the degrading treatment of black soldiers.

These experiences inspired her to write a novel, Dau Tranh. It tells the story of a mixed-race woman Jeanne, a child prodigy and musician who worked and travelled in Vietnam as a foreign correspondent. Her skin colour was a burden especially in the echelons of White American society. She saw license was given to be insulted, treated as a pariah and to be deprived basic human respect. The writing of the book seemed to have been a cathartic experience for Phillipa.

During her initial six weeks in Vietnam, Phillipa co-founded the Amerasian Foundation to help interracial families. After going home to New York with plans to return, her mother pleaded with her not to risk her life.

Phillipa Schuyler died on May 9th in a helicopter crash while making an unauthorised attempt to rescue Catholic schoolchildren from a war zone.
The life of Phillipa Duke Schuyler is now being made into a
biopic produced by Halle Berry and starring Alicia Keys