Intermix.org.uk is a website for the benefit of mixed-race families, individuals and anyone who feels they have a multiracial identity and want to join us.

Our mission is to offer a view of the mixed-race experience, highlighting icons, film, books, poetry, parenting techniques, celebrities, real lives and much more.

Our online forums are a great place to meet others, ask questions, voice your opinions and keep in touch. Sign up for our monthly newsletter and delve into our pages.

Want to join in? Become an Intermix member to take part: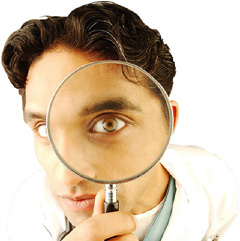 I don't want Lily to think she has to choose one racial identity just to make things easier for others.

As a boy in the 1970s, though I was White-skinned and spoke only English, my 'ethnic' last name — Valdes — marked me as 'Spanish' in my rural Maine town. Saying that I was actually Cuban was meaningless in those days — I was still flagged as loving spicy food (no, that's Mexican) and coming from coffee pickers (that's Juan Valdez with a Z, and he's Colombian). In the 1980s, the one-two punch of the Mariel boatlift and the release of Scarface yielded an anti-Cuban sentiment that got my brother and I called 'spics'. Yet when I went to college and joined the Latino student organization, the club president personally kicked me and several other single-language 'half-breeds' out of the group, explaining that we weren't 'real' Latinos.

None of these experiences ever convinced me to stop thinking of myself as partly-Latino just to avoid argument or, conversely, to try to pretend I was somehow 'more Cuban' to fit in with that culture. I was determined to embrace my multiethnic identity for what it was.

When my husband and I adopted, I was thrilled to discover that our daughter was of mixed heritage. I was sure I could help her adapt to the questions of such an identity. But I've had to learn that our experiences will not be carbon copies: while I was always visually identified as ethnic majority (packaging me easily, but not wholly truthfully, in one way), visual clues render her as minority (packing her easily, but not wholly truthfully, in a different way). Lily's Nana told a Polish immigrant grandmother she knows that we had a half Polish daughter; the woman clamoured to meet the baby, but when the woman finally saw Lily, her faced clouded over. 'Is dark for Polish baby,' she complained. It was just a hint of the heavier racial prejudices that Lily will face which I did not.


Source:
: