Gok Wan - Broadcaster
Erin Smallwood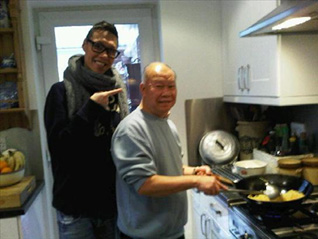 'Some man has just screamed in my car "I'll have a number 42 and 2 egg fried rice!" how rude!!! Made me wee a little bit laughing though! X.'
Gok was born in Leicester in 1974 as Ko-Hen Wan. His father, who is Chinese, was born in Hong Kong and emmigrated to England in his teens. His mother, who is English, met his father while working in the same take-away, and they went on to run
a family restaurant.
One of three children (his brother Kwoklyn is a martial artist who teaches Jeet Kune Do, his older sister, Oilen, is a child-care
solicitor), Gok admits he was bullied for being mixed-race, as well as for being tall, over weight (he was 21 stone in his teens) and gay.
Gok attended a course in performing arts at the Charles Keene College of Further Education, and received a diploma. He then enrolled at the Central School of Speech and Drama, but dropped out as he felt the other students had different backgrounds and his weight was an issue.
He returned home and lost half the weight in an amazing 9 months. He went on to become a successful fashion consultant for a myriad of celebrities and high fashion magazines such as Tatler, Marie Claire, Cosmopolitan and The Face.
In 2004 Gok presented his first TV show 'How to look good naked' on channel 4, which was a resounding success. The show inspired women to feel confident in their bodies, teaching them how to dress to suit their shape, and love themselves. His show was a breath of fresh air amid the popular make over shows on TV at the time, which preached drastic plastic surgery, usually without addressing the emotional issues behind the lack of self-esteem.
Since his launch to TV fame, Gok has published books, launched his own clothing line, presented documentaries and further TV series and supported charities such as Children in Need and the anti-bullying charity Kidscape, as well as launching a National Glasses Day encouraging people to wear their glasses with pride.
A prolific tweeter, he frequently makes light of the fact he is both gay and half Chinese. Some personal favourites are:
'Some man has just screamed in my car 'I'll have a number 42 and 2 egg fried rice!' how rude!!!! Made me wee a little bit laughing though! X'
'Mmmmm... I reckon Jonny Depp needs him a chinese take away! (wink)... And if boyfriend orders enough he gonna get himself a free delivery!'
'Taking ma and poppa Wan to 10 downing street to PM's chinese NY party. Told popppa Wan I'm sewing up his pockets so he can't steal anything!"
'Poppa Wan has just made me piss myself. He admired my 'Lewis Wonton' luggage set. I don't know what Louis Vuitton will have to say!! PMSL!'

Gok's success amid racial and homosexual bullying and prejudice, and his efforts to combat the celebrity and fashion trend that skinny is sexy, proving that big can be beautiful, makes him not only a mixed-race idol, but a role model for anyone who faces adversity for being different.

Click here to visit Erin Smallwood's Blog:

Source: