Intermix.org.uk is a website for the benefit of mixed-race families, individuals and anyone who feels they have a multiracial identity and want to join us.

Our mission is to offer a view of the mixed-race experience, highlighting icons, film, books, poetry, parenting techniques, celebrities, real lives and much more.

Our online forums are a great place to meet others, ask questions, voice your opinions and keep in touch. Sign up for our monthly newsletter and delve into our pages.

Want to join in? Become an Intermix member to take part:



Dancer Joins Fascist Party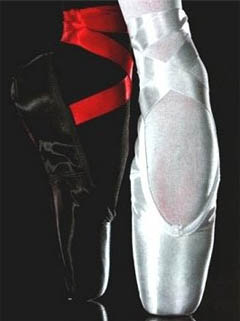 Who don't accept her mixed-race family.

Dancer Simone Clarke has been a member of the British National Party since 2005 and is opposed to 'unlimited immigration'.

Following an exclusive feature in The Guardian on 21st December 2006 which placed her political sympathies in the spotlight, anti-fascist protesters staged a demonstration on the opening night of English National Ballet's production of Giselle, in which Clarke danced the lead role.

Although many people objected to the publically subsidised ENB (which receives funding from the Arts Council) employing an artist with such right-wing views, and Bectu (the union which represents many theatre professionals) condemned Clarke as having brought the industry into disrepute, others argued that making arts funding dependent on the palatability of an individual's personal political views would set a worrying precedent. Nevertheless, in the UK, publicly funded organisations
are obliged by the Race Relations Act of 2000 to to promote multiculturalism and oppose racism.

However, Clarke's partner and fellow principal dancer at the ENB, Yat Sen-Chang, is a Cuban immigrant with a Chinese father and the couple have a mixed-race child. Surprisingly, Clarke says she joined the party with her partner's encouragement and they read the BNP's manifesto together before she signed up. She claims to have read the manifesto taken it on face value, while admitting that 'a lot of it' went over her head.

In its manifesto, the BNP described multi-racialism as 'a recipe for disaster' and states that racism is part of human nature. It calls for the repeal of the Race Relations Act, the abolition all laws against racial discrimination in employment and the introduction of a Clause 28-style proscription against the promotion of racial integration in schools.

In an official statement elsewhere on its website, party chairman Nick Griffin describes the BNP's 'fundamental determination to secure a future for white children' and refusal to accept miscegenation (marriage or cohabitation between a people of different races and reproduction by parents of different races) as moral or normal. In the same statement, Griffin explains that BNP members do not think it is a 'good thing for even a single person of European stock to have so much as one child with a Japanese or Chinese... because such a union mixes what are not meant to be mixed'.

Source: