Intermix.org.uk is a website for the benefit of mixed-race families, individuals and anyone who feels they have a multiracial identity and want to join us.

Our mission is to offer a view of the mixed-race experience, highlighting icons, film, books, poetry, parenting techniques, celebrities, real lives and much more.

Our online forums are a great place to meet others, ask questions, voice your opinions and keep in touch. Sign up for our monthly newsletter and delve into our pages.

Want to join in? Become an Intermix member to take part:




What About The Children?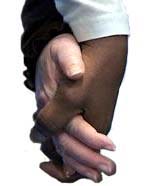 Judge refuses to marry mixed couple.

A justice of the peace in America turned down a couple's request for a marriage license, because of his doubts concerning interracial marriage.
Justice of the Peace Keith Bardwell says he isn't a racist: he marries black couples and he marries white couples -but not mixed couples. So when Beth Humphrey, 30, and her boyfriend, Terence McKay, 32, both of Hammond, Louisiana asked him to marry them last week, Bardwell said no.
Bardwell says, 'I'm not a racist. I have plenty of black friends. When an inter-racial couple marries and has children, the blacks don't accept them and the whites don't accept them. I feel like I'm putting innocent kids in a bad situation. The Attorney General's office has told me I'm in violation of the law, but I have the right to excuse myself. I don't feel like I've done anything wrong.'
Bardwell says he isn't telling inter-racial couples they can't get married..only that he doesn't want to perform the ceremony and he does give inter-racial couples the name and number of another justice of the peace who will marry them.
Bardwell has been a justice of the peace for 34 years and says this has always been his policy. Nonetheless, the American Civil Liberties Union (ACLU) is outraged and have started the process of trying to remove Bardwell from his elected office.
'We were horrified that an officer in the judicial system of Louisiana would take a position that is so blatantly contrary to the law of the land of this country and so hateful and racist that he would deny people the right to marry just because he doesn't like who they are,' says Marjorie Esman of the ACLU.

Beth Humphrey and Terence McKay, have filed a suit against Keith Bardwell, alleging that Bardwell violated their civil rights when he refused to perform the ceremony because they were of different races. The suit seeks financial penalties because of mental anguish and emotional distress.

Source: