Anna Nicole's Secret Pregnancy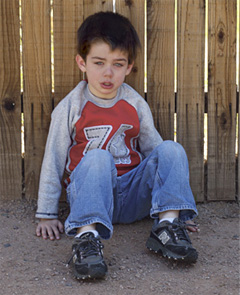 Mixed-race love child latest heir to fortune .

Anna Nicole Smith may be dead and buried but new details of her life are appearing every day. The latest revelation is that the ex Playboy model who died on February 8 this year from an accidental drug overdose was the mother of a mixed-race child.
Five-year-old Marshall Black Deer Soto is alleged to be the son of Anna Nicole and Native American Johnny Soto.

According to Johnny, his son is the result of a torrid love affair between himself and the 42DD femme fatale in early 2001, while Anna Nicole was vacationing at Paradise Valley's Sanctuary Resort and Spa. He has the birth certificate and other documents to prove it, including bank details of the $10,000 a month Anna Nicole sent as child support. If they hold up in court, and he's able to establish little Marshall's lineage through DNA, Johnny, his son, and the entire Tohono O'odham tribe stand to cash in big time.
Anna Nicole's eldest child, Daniel, overdosed at the age 20 from a lethal mixture of antidepressant meds and methadone. Hypothetically, this would leave his sister, Dannielynn, born just days before Daniel OD'd, sole heir to the Smith-Marshall millions.
Johnny Soto's a tall, ruggedly handsome man in his mid-thirties, with copper skin and jet-black hair, and the way he tells it, it was Anna Nicole Smith who seduced him, not the other way around.
'She'd never slept with anyone who wasn't white before,' said Johnny. 'That's what she told me. She had what we call 'scarlet fever' [when an Anglo falls for a Native American man or woman]. When an Indian man goes for a white woman, it's called 'eating at the white man's trough.'
If Johnny Soto is successful, little Marshall (named for Anna Nicole's dead oil-magnate hubby) may well become one of the wealthiest trust-fund kids in history.
Click here to read the whole article:

View other news:
Source:phoenixnewtimes.com