Intermix.org.uk is a website for the benefit of mixed-race families, individuals and anyone who feels they have a multiracial identity and want to join us.

Our mission is to offer a view of the mixed-race experience, highlighting icons, film, books, poetry, parenting techniques, celebrities, real lives and much more.

Our online forums are a great place to meet others, ask questions, voice your opinions and keep in touch. Sign up for our monthly newsletter and delve into our pages.

Want to join in? Become an Intermix member to take part:



Voodoo Child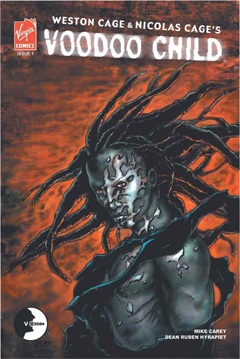 A mixed-race supernatural hero.

Actor Nicholas Cage and his son Weston recently unveiled their new comic book project Voodoo Child. The six book series involves a mixed-race main character named Gabriel, who battles against racism in New Orleans in the wake of hurricane Katrina.

Gabriel who was murdered 200 years ago is resurrected with special powers in New Orleans, following the Hurricane Katrina disaster.

Weston who is Nicholas' son from his relationship with actress Christina Fulton said at Comic-Con that, 'I grew up around comics because my dad loves them. When we started talking about ideas for this story, I had really detailed characters and images in my mind.'

Plans are in motion to bring the comic book to the big screen as soon as possible, under the banner of Cage's Saturn Films. But don't expect to see Nicolas Cage acting out the role of main character in Voodoo Child. Nicholas said, 'He's more like a young Lenny Kravitz in Weston's mind.'
The families decision to make Gabriel racially mixed could stem from their own mixed-race experiences; Nicholas is married to Korean Alice Kim, a former sushi waitress with whom he has another son Kal-El.

Voodoo Child is available now from Virgin Comics.

Source: