Intermix.org.uk is a website for the benefit of mixed-race families, individuals and anyone who feels they have a multiracial identity and want to join us.

Our mission is to offer a view of the mixed-race experience, highlighting icons, film, books, poetry, parenting techniques, celebrities, real lives and much more.

Our online forums are a great place to meet others, ask questions, voice your opinions and keep in touch. Sign up for our monthly newsletter and delve into our pages.

Want to join in? Become an Intermix member to take part:




U.S. Soldier Helped Set Diva On Right Course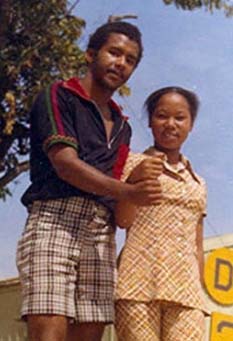 I knew she was really smart, but when I found out she was famous, I couldn't believe it,'

For many Americans there are no good memories of the Korean war but despite the decades that have passed one U.S. soldier stationed in South Korea, Ronald Lewis never stopped wondering what had become of the troubled teenage girl he and a few of his Army buddies befriended while they were there.

She was named Kim In-soon and was the daughter of a Korean woman and a black U.S. soldier who abandoned the family. Kim was raised by her mother in a culture that generally shunned mixed-race people. Her mother's family had disowned them because she chose not to abandon her mixed-race daughter.

In her mid-teens, Kim and her mother moved to Dongducheon, which is home to Camp Casey, a U.S. Army base. It was there, at about age 16, that she first met Ronald and his friends, who were several years older. A friendship grew.

'I saw them often,' Kim, now known as Insooni said. 'They bought delicious food for me. They talked to me slowly in English. They brought me into the base and showed me their workplace. They bought hamburgers for me. They saved money and bought clothes and earrings for me, like I was their sister.'

Eventually, Ronald and his friends left South Korea and, after exchanging letters with Kim for a while, everyone lost touch.

Then, a few months ago, Ronald was contacted by a 2nd Infantry Division representative who was helping the Kim track down the guys she credits with helping set her life on the right course. Suspicious, Ronald did a Web search using the name by which she is now known — Insooni — and found that the girl he once knew as Kim has been a famous R&B singer here for more than 30 years, known as 'the Tina Turner of South Korea.'

Ronald and Insooni were put in touch with one another earlier this year and despite knowing only a limited amount of English, Insooni spoke to Ronald by phone.

Now 58 and a divorced father of three employed as a technician at the DuPont Co. in Wilmington, Del., Ronald, dismissed the suggestion that he was partly responsible for Insooni's success. But, that doesn't mean he is not proud of what she became.

'I knew she was really smart, but when I found out she was famous, I couldn't believe it,' he said. 'Everyone in Korea knows her.'

Insooni's big break came in 1978, when at 20 years old, she started performing as a member of the Hee Sisters, a groundbreaking, all-girl group in South Korea.

Breaking out on her own was not easy and she found herself banned from some TV shows and singing competitions because of her mixed-race features. Now more than three decades and almost 20 albums later her mixedness draws in even more fans.

Whilst success may come a lot easier these days, Insooni has not forgotten the hardships her and her mother had to endure because of her mixed racial background and has been outspoken in her support for the plight of mixed-race children in Korea. As a child, the Pearl S. Buck Foundation provided funds for her schooling and living expenses, and made counselling available when she needed it. Now, Insooni is a trustee and her daughter is an intern with the organization.

'Many biracial children watch me, so I've got a lot on my shoulders now' she said. 'Their parents mention me as a role model … so I talk to the kids about how they can overcome hardships.'

Insooni hopes to open a school in South Korea for multiracial children.
Click here read the original article and see more photographs:
Source: