Intermix.org.uk is a website for the benefit of mixed-race families, individuals and anyone who feels they have a multiracial identity and want to join us.

Our mission is to offer a view of the mixed-race experience, highlighting icons, film, books, poetry, parenting techniques, celebrities, real lives and much more.

Our online forums are a great place to meet others, ask questions, voice your opinions and keep in touch. Sign up for our monthly newsletter and delve into our pages.

Want to join in? Become an Intermix member to take part:




Cathy Snubs Condoleeza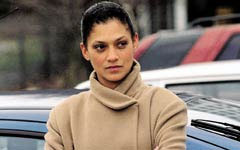 UK actress joins protesters.

Actress Cathy Tyson has turned down a role in a Liverpool gala concert for Condoleezza Rice and instead will protest at the US Secretary of State's visit.
The 40-year-old Liverpool-born star who is the daughter of a Trinidadian barrister father and English social worker mother was approached to appear at Friday's event at the Philharmonic Hall.

The Stop the War Coalition has staged several protests and will be demonstrating outside the Philharmonic on Friday.

Spokeswoman Audrey White said: 'I think Cathy will be admired by many people for standing in solidarity with ordinary Iraqis.'
A Philharmonic spokeswoman said: 'We've been speaking to a number of artists, including Cathy Tyson who has declined to take part.'
Cathy who first rose to fame appearing in Mona Lisa with Bob Hoskins has recently appeared in episodes of The Bill and M.I.T. Murder Investigation.

Source