Intermix.org.uk is a website for the benefit of mixed-race families, individuals and anyone who feels they have a multiracial identity and want to join us.

Our mission is to offer a view of the mixed-race experience, highlighting icons, film, books, poetry, parenting techniques, celebrities, real lives and much more.

Our online forums are a great place to meet others, ask questions, voice your opinions and keep in touch. Sign up for our monthly newsletter and delve into our pages.

Want to join in? Become an Intermix member to take part:




A Warm Welcome For Edna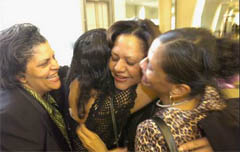 '46 years away from my family, now I'm home.'

When Lillian Rose Thompson, a happy white woman with three children fell in love with Everett Board, a black man in 60s America, it would be safe to say that their relationship would have many obstacles.
The couple were already facing growing hostility when Lillian became pregnant, her family disowned her and Everett's did the same to him. When the baby was born they caved in to pressure and gave their child — Edna Michelle — up for adoption.

Now 46 years later and after a lengthy search not only by Edna but her siblings too, the family have finally been reunited.

Edna who was renamed Kathy Michelle by her adoptive mother Louise Miller began searching for her birth family after Louise died four years ago.
While Kathy was searching for family members, they also were looking for her. Tammie Wright, who was born one year after Briscoe and is the first mixed-race child her mother kept, had tried using the Internet and other resources, but was making little progress.

Finally, her mother asked her to stop the search saying `I can't face her knowing I kept all you all and I gave her up,' Tammy believed her mother feared that the woman born Edna Michelle would harbour resentment.
But Kathy said she has no hard feelings. She understands the racial tension of the time and knows how hard it was for her mother to give her up. Besides, she was adopted by a 'strong, smart, beautiful black woman.'

Kathy eventually found her family through "Given Right," an adoption search agency that put her in touch with them on January 30.

Kathy said her only regret is not having met her many relatives sooner. Unfortunately, she's too late to meet her biological parents. Her father, Everett Board, died in 2003, and her mother, Lillian Rose Thompson, died in 2004.

Twenty-five relatives including her five sisters, two of her three brothers and many of her 32 nieces and nephews gathered at Louisville International Airport to welcome Kathy home.
'That's a lot of catching up to do,' said Kathy. 'I've never had sisters. I can see myself in each one of them. I look at them and think, `What have I missed?'

The family made photo albums to provide some family history and over and over, they commented about how much Kathy resembles their mother.

'You would have been proud of her. She was a good mom," said Sandy Jacobs, Kathy's oldest sister.

'I wished I'd have known you all were here,' Kathy replied sobbing as her sister embraced her. 'I didn't even know you were here. I thought I was by myself.'

'I'm so glad to be home, said Kathy. 'For 46 years I've been away from my family, and now I'm home. There are no words to tell what it's like to be with your blood.'

Kathy is already planning to return to Louisville in September, bringing her son, two daughters and two grandchildren.