Intermix.org.uk is a website for the benefit of mixed-race families, individuals and anyone who feels they have a multiracial identity and want to join us.

Our mission is to offer a view of the mixed-race experience, highlighting icons, film, books, poetry, parenting techniques, celebrities, real lives and much more.

Our online forums are a great place to meet others, ask questions, voice your opinions and keep in touch. Sign up for our monthly newsletter and delve into our pages.

Want to join in? Become an Intermix member to take part:



Messy Utopia At Mixed Blood Theatre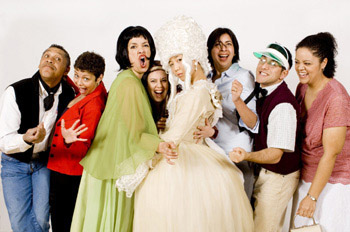 A play for, by and about mixed-race people.

Messy Utopia is a show about the mixed-race experience and features the work of mixed-race playwrights such as Naomi Iizuka, Aditi Brennan Kapil, Velina Hasu-Houston, and Seema Sueko, as well as Janet Allard who grew up in a world of hapas (Hawaiians of mixed race) as a haole
(a white Hawaiian).

The cast of actors are also mixed-race, Jamila Anderson, Jennifer Chang, Stephanie Díaz, Joe Hernandez-Kolski, Channing C. Jones, Aditi Kapil, George A. Keller and Joe Thomas.

Staged in all corners of the Mixed Blood theatre, in Minneapolis, US, this world premiere asks that dreaded question: 'What are you?'. The answer is reflected that people of mixed-race are all around us, literally and figuratively.

Among the several vignettes, the stories are interwoven into a theme of where America is going in the blending of culture and races and distinct disparate voices.

The play is unique for having so many mixed-race cast members, says Jennifer Moscarden Chang. 'It is about breaking expectations and about being,' she adds. 'Ultimately, it is about people and relationships and not colour.'

Jennifer portrays an Ingénue actress, complete with Marie Antoinette costume – An Asian woman in the whitest possible role. 'If anything this is a very fun play and it is a great cast to work with,' says Jennifer.

As the daughter of a Filipina mother of Spanish and Malay-Chinese origin, along with a Chinese and Muslim-Arab father, Jennifer grew up without a sense of belonging to any one group – except her own family.

'For me personally it's been a very interesting journey,' says Jennifer.

The Mixed Blood theatre was founded in 1976 and is a multi-racial theatre promoting cultural pluralism and individual equality through artistic excellence.

Artistic Director Jack Reuler says, 'The biracial movement is political and controversial, but it is our reality at Mixed Blood. Are labels like Blasian, Eurafrican, mulatto, and octoroon artificial constructs devised to divide people and dilute political clout?
I decided to seek out a depth of thought on the topic from the finest playwrights in the nation, believing that a multiplicity of perspectives would provide the necessary shape and texture for this theatrical undertaking.'
Messy Utopia plays April 20 - May 13 at Mixed Blood's firehouse theatre located at 1501 South Fourth Street on the West Bank in Minneapolis.

For more information about Messy Utopia and the Mixed Blood theatre, click here:
Source:aapress.com