Intermix.org.uk is a website for the benefit of mixed-race families, individuals and anyone who feels they have a multiracial identity and want to join us.

Our mission is to offer a view of the mixed-race experience, highlighting icons, film, books, poetry, parenting techniques, celebrities, real lives and much more.

Our online forums are a great place to meet others, ask questions, voice your opinions and keep in touch. Sign up for our monthly newsletter and delve into our pages.

Want to join in? Become an Intermix member to take part:



Stacey's Proud Of Her Black Mother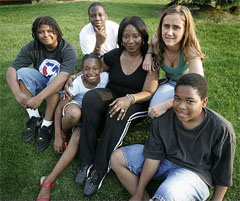 Classmates called her 'The blackest white girl they know'.

The subject of transracial adoption is a controversial one with many good intentions on both sides of the argument. One area that is rarely touched upon is that of black couples adopting white children but it does happen.

Of 11,000 adoptions in Michigan in the United States from 2001-05, the last year available, 78 black couples adopted white children during the same period 677 white couples adopted black children.

In 1997 a case made national news when a state
agency tried to prevent eight-year-old Stacey from being adopted because of "cultural issues." She is white and her perspective adoptive mother was black.
The mother was Regina Bush, who was in the process of adopting Stacey's mixed-race stepsister and decided to adopt Stacey to keep the sisters together.
Bill Johnson, superintendent of the Michigan Children's Institute, which oversees state adoptions, said his agency was concerned about more than race in Regina Bush's case.

She was a single parent with a full-time job who was taking care of five children. Regina however passed all the state's tests with flying colours.

The adoption was approved and, for the past decade, Stacey has prospered in her new home. She has accomplished things once doubted by naysayers even as she witnessed discrimination from a rare view -- as a white child adopted by a black parent.

The rest of society however weren't so colour-blind. The family drew looks and comments when they went out in public.

At school, classmates asked why Stacey spoke and acted black. They called her a black girl in a white person's body and the blackest white girl they knew.
Instead of being hampered by a lifetime of difficulty, Stacey used it to spur herself on. She wanted to prove wrong all the people who had given up on her.

Stacey, who is now 18 recently won awards for community service, finished second in the state for the Boys and Girls Club's youth of the year, won several college scholarships and plans to attend Central Michigan University in the fall.

Regina, 46, a welfare eligibility specialist with the state, is a single mom of eight. Two are biological and the others are adopted. Well done Regina.
Click here for more adoption news:

View other news:
Source:Detnews.com