Intermix.org.uk is a website for the benefit of mixed-race families, individuals and anyone who feels they have a multiracial identity and want to join us.

Our mission is to offer a view of the mixed-race experience, highlighting icons, film, books, poetry, parenting techniques, celebrities, real lives and much more.

Our online forums are a great place to meet others, ask questions, voice your opinions and keep in touch. Sign up for our monthly newsletter and delve into our pages.

Want to join in? Become an Intermix member to take part:




Angelina Jolie Defends Casting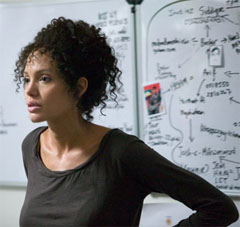 'Part could have gone to many different racial backgrounds'.

The casting of Angelina Jolie as Marianne Pearl, the wife of murdered journalist Daniel Pearl in the film A Mighty Heart has been the subject of many heated forum debates.
On January 23, 2002, Mariane Pearl's world changed forever. Her husband Daniel, the South Asia Bureau chief for the Wall Street Journal, was researching a story on shoe bomber Richard Reid. The story drew them to Karachi where a go-between had promised access to an elusive source. As Danny left for the meeting, he told Mariane he might be late for dinner. He never returned.
In the face of death, Danny's spirit of defiance and his unflinching belief in the power of journalism led Mariane to writeabout his disappearance, the intense effort to find him and his eventual murderer in her memoir A Mighty Heart: The BraveLife and Death of My Husband Danny Pearl.
'Six months pregnant when the ordeal began, she was carrying a son that Danny hoped to name Adam. She wrote the book to introduce Adam to the father he would never meet. Transcending religion, race and nationality, Mariane's courageous desire to rise above the bitterness and hatred that continues to plague this post 9/11 world, serves as the purest expression of the joy of life she and Danny shared.

Angelina Jolie recently tried to address the casting concerns during a press junket for the film, stating the following:

'The idea is, if you ask Mariane, because she did address that, and if you did actually want to find somebody that was her exact makeup, she's actually majority Dutch, and she's as black as she is Chinese, and she's Cuban, and she's French. So, it could have gone to many different racial backgrounds, probably, if you went technical on it. And that, you know, is a reality. At the same time, to her, the importance was the essence of her spiritually, and I think that was what mattered and I think that is a question to ask her. But no, if you break down the DNA, it's very complex.'
One thing is certain casting Angelina in the part has generated the kind of publicity that will ensure the success of A Mighty Heart.
Visit the website for A Mighty Heart:
Source: