Intermix.org.uk is a website for the benefit of mixed-race families, individuals and anyone who feels they have a multiracial identity and want to join us.

Our mission is to offer a view of the mixed-race experience, highlighting icons, film, books, poetry, parenting techniques, celebrities, real lives and much more.

Our online forums are a great place to meet others, ask questions, voice your opinions and keep in touch. Sign up for our monthly newsletter and delve into our pages.

Want to join in? Become an Intermix member to take part:




'It's Such A Colourful World'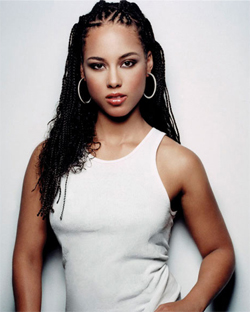 Alicia's childhood to be serialised.

Alicia Keys has teamed up with American company UPN to develop a drama loosely based on her childhood.

The coming-of-age story will follow a mixed-race girl and her family and is the first project to come out of New York-based Big Pita, Lil' Pita, a company formed by Alicia and her long time manager Jeff Robinson.

The new company's name has a special meaning for Alicia and Jeff, who have worked together for more than a decade. According to them, 'Pita stands for pain in the ass,' which they both consider themselves to be.
The pair will serve as executive producers for the as yet untitled project with the script being written by Felicia Henderson, whose credits include Showtime's Soul Food, UPN's Moesha and NBC's The Fresh Prince Of Bel-Air.
Alicia told the American media, 'A lot of times I watch TV and I watch film and there's so many things I'd love to talk about that I feel don't get the opportunity to be shown. Sometimes things become very stereotypical and one-sided, and I feellike it's such a colourful world.' Alicia hopes the company will provide the opportunity to expose just that.

Although Alicia probably won't be acting in the show, she is beginning an acting career of her own, having just finished Smokin' Aces alongside Ben Affleck and Andy Garcia.


Want to be an Intermix Product Tester? Click here to find out more: