Intermix.org.uk is a website for the benefit of mixed-race families, individuals and anyone who feels they have a multiracial identity and want to join us.

Our mission is to offer a view of the mixed-race experience, highlighting icons, film, books, poetry, parenting techniques, celebrities, real lives and much more.

Our online forums are a great place to meet others, ask questions, voice your opinions and keep in touch. Sign up for our monthly newsletter and delve into our pages.

Want to join in? Become an Intermix member to take part:




Animals Can Mix Too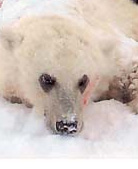 Hunter slays bear with unique parentage.

If you think they treat mixed-race people badly spare a thought for those in the animal world.

Jim Martell, a 65-year-old hunter from Idaho recently shot what he thought was a polar bear only to discover that the animal was in fact the offspring of a polar bear and a grizzly bear.

Territorial officials seized the creature after noticing its white fur was scattered with brown patches and that it had the long claws and humped back of a grizzly. Now a DNA test has confirmed the animal was indeed a mixture of grizzly and polar — possibly the first documented in the wild.

It seems that the hunted animal did not escape the usual derogatory treatment metered out to those who don't fit into the usual boxes, in tiny Sachs Harbour, where Mr. Martell's guide lives, the going name is 'Half-Breed' - and the bear is the talk of the town.
The bear will now be returned to Mr Martell who will now own one of the most unique bear skins on the planet.

'It will be quite a trophy,' Mr. Martell said last week, before hearing that the bear was his to keep. He has now returned to Yellowknife for another hunt, this time for a grizzly bear.

Hopefully this time the bear will get the better of him.