Intermix.org.uk is a website for the benefit of mixed-race families, individuals and anyone who feels they have a multiracial identity and want to join us.

Our mission is to offer a view of the mixed-race experience, highlighting icons, film, books, poetry, parenting techniques, celebrities, real lives and much more.

Our online forums are a great place to meet others, ask questions, voice your opinions and keep in touch. Sign up for our monthly newsletter and delve into our pages.

Want to join in? Become an Intermix member to take part:



Dr Who's New Companion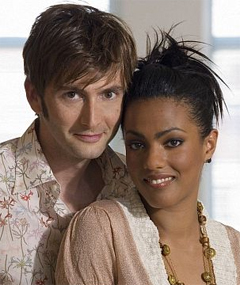 Freema Agyeman delighted to get the part.

The new series of DR Who, is about to hit our screens and 27-year-old actress Freema Agyeman will be taking over where previous companion Billie Piper left off.

The London born actress who is of Ghanaan and Iranian parentage will play the part of Martha Jones, a trainee doctor, who will be seen stepping into the Tardis when Doctor Who returns to BBC One at the end of the month.

The part is a a positive portrayal and Freema is delighted with the part, she recently told DR Who Magazine:
'She's very independent, Martha lives on her own and you get the sense that the Doctor interrupts her life! She's spent a very long time training to be a doctor herself – and is close to qualifying.'
Freema needn't have been worried about stepping into Billie Piper's shoes, she's already received lots of positve messages of congratulations.

'I got messages from Billie and Elizabeth Sladen (Sarah Jane Smith). I'm companion number 32 or 33 so it's nice to hear former companions say 'just do it your way' - it means the world to me,' she told the BBC News website.

'I'm so grateful. Not a lot of people like change, but the fact they are embracing it is great for me.'

The opening episode - Smith and Jones - sees the Doctor meet Martha in a London hospital, which is dramatically transported to the Moon. There they battle a blood-sucking alien and the Judoon - a clan of galactic stormtroopers.

Freema admits that there are a few similarities between Martha and Rose the previous companion.

'They are both fiery and feisty, but you need those qualities to be a Doctor Who assistant. You can't be a shrinking violet and go to the Moon. But Martha is more independent, more academic.'

You can find out for yourself on March 31 when Doctor Who returns to BBC One.

Source:bbc.co.uk