Intermix.org.uk is a website for the benefit of mixed-race families, individuals and anyone who feels they have a multiracial identity and want to join us.

Our mission is to offer a view of the mixed-race experience, highlighting icons, film, books, poetry, parenting techniques, celebrities, real lives and much more.

Our online forums are a great place to meet others, ask questions, voice your opinions and keep in touch. Sign up for our monthly newsletter and delve into our pages.

Want to join in? Become an Intermix member to take part:




I Want That One!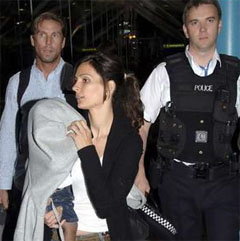 Madonna takes advantage of father's poor status.

Madonna may have annoyed UK officials by not following the proper protocol for overseas adoption but the far more sinister aspects of her behaviour may rise up and bite her on the arse one day.

David Banda, the baby Madonna is trying to adopt, was put into an orphanage by his father because the child's mother had died in childbirth and two other children had already died of Malaria.

Now the common sense thing to do if you had a lot of money would be to give enough to the father so he could support himself and his son, then pat yourself on the back for helping a family to stay together.

Unfortunately the Material Girl couldn't find her common sense when she went to Malawi, (probably forgot to pack it in her suitcase) instead of choosing to adopt a child that had no living relatives at all she chose to take a child away because his father could not afford to feed and clothe him.

Transracial and overseas adoption is not necessarily a bad thing especially if the perspective parents ensure that they adopted child receives a balanced cultural upbringing such as learning the language and culture of his birth nation and is in regular contact with other families and individuals with a similar background.

Unfortunately most celebrities do not even have a good record at parenting their own birth children, so how is an adopted child going to fare. A life of nannies, private tutors and hiding from photographers is not necessarily a good one.

Yohane Banda, David's father described his son's adoption by Madonna and Guy Ritchie as a 'blessing from God.' He then poignantly mused:

'I wonder if he will ever come back and see us and what language he will talk?'

Unfortunately Yohane we doubt it will be Chichewa, Tumbuka or Yao, the traditional languages of Malawi.

One thing is for certain when David Banda grows up he will want to know why Madonna and Guy Ritchie chose to wrench him away from him birthland rather than help his father to look after him himself.



Do you think Madonna is right to adopt baby David?
Click here to visit our forums and tell us your views:
Source: