Intermix.org.uk is a website for the benefit of mixed-race families, individuals and anyone who feels they have a multiracial identity and want to join us.

Our mission is to offer a view of the mixed-race experience, highlighting icons, film, books, poetry, parenting techniques, celebrities, real lives and much more.

Our online forums are a great place to meet others, ask questions, voice your opinions and keep in touch. Sign up for our monthly newsletter and delve into our pages.

Want to join in? Become an Intermix member to take part:



Race Are We So Different?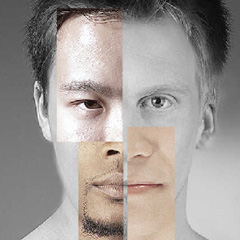 An exhibition to help unlearn racism.

A project of the American Anthropological Association, created by the Science Museum of Minnesota Race: Are We So Different? is an exhibit that investigates the history of the concept of race and points out that science tells us that biologically, race doesn't exist.
Throughout the interactive exhibit, the point is made that the idea of race was invented as a social and political construct. As one scientist states on several displayed videos was created to justify both the enslavement of African-Americans and the removal of Native Americans from their lands.
The exhibit also shows that race has nothing to do with skin colour, which developed as an evolutionary response to the geographical location of one's ancestors. People of all so-called 'races' can have dark skin if their ancestors originated from near the equator - from people currently living in Africa to people in India, Australia and the Pacific islands.
'Race is so deeply embedded in our lives it appears to be the natural order of things,' says Yolanda Moses, a professor of anthropology at the University of California, Riverside, in an interview with the Daily News. 'We must challenge that notion with all the power of our science and society.'
Another anthropologist, Janis Hutchinson from the University of Houston, echoed Moses. 'From a biological perspective, there's no such thing as race. Some 99.9 percent of the genes people [described as being of different races] are the same. There's no collection of traits that all people of a certain race have. What we're talking about is a social idea of race.'
Yet, whilst it is useful to know that race is a social construct it is important to understand that racism, the very essence of that construct is also deeply embedded in society and until we can eradicate racism, racial categorisation will continue to affect the life chances and well being of many.

Race Are We So Different, is on the right track. Not only does it give us some idea of how race is experienced in everyday life - both past and present, with videos of people discussing how they have been treated because of skin colour or presumed racial identity but it also acts as a resource for those who want to use the travelling exhibit and interactive Web site as a way to "teach race and unlearn racism.".
Race Are We So Different will remain at the Franklin Institute, Philadelphia, Pennsylvania until September. The interactive website can be viewed by clicking here:
Source:philly.com