Intermix.org.uk is a website for the benefit of mixed-race families, individuals and anyone who feels they have a multiracial identity and want to join us.

Our mission is to offer a view of the mixed-race experience, highlighting icons, film, books, poetry, parenting techniques, celebrities, real lives and much more.

Our online forums are a great place to meet others, ask questions, voice your opinions and keep in touch. Sign up for our monthly newsletter and delve into our pages.

Want to join in? Become an Intermix member to take part:




Kissing Outside The Lines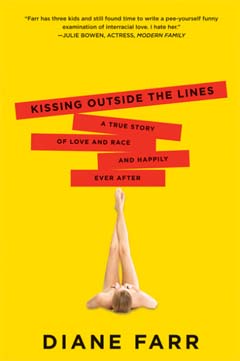 'This is gonna be a problem for my parents.'

Diane Farr is a well-known name in America but here in the UK only those who watch American TV programmes such as Rescue Me, Californication or Numb3rs would have any idea who she was. She's also had magazines pieces in G.Q., Esquire and Cosmpolitan, along with her syndicated newspaper columns on motherhood issues.
Diane is also married to Seung Chung, a Korean American man who emigrated to the U.S. with his parents, and her book Kissing Outside The Lines is about their relationship. As a second generation American child of Irish and Italian heritage, Diane was not prepared for what happened after her then -boyfriend admitted 'this is gonna be a problem for my parents.'
Interlaced with stories of other multiracial couples who
relate their strategies for navigating the waters of disapproving families, friends and everybody else, Kissing Outside The Lines documents Diane's journey learning to cope with the resistence from Seung's relatives.

In a recent interview for with Eric Deggans from The Feed, Diane admitted that she already had an idea of the audience she was aiming at: 'In truth, more than 50 percent of me was writing the book for our parents. I was writing it so that if you were on the verge of marrying (someone from another race or culture), you could give it to her parents or yours because nobody's a bad guy.'
The mother of Beckett Mancuso and twins, Sawyer and Coco, Diane also devoted some of Kissing Outside The Lines to being a parent: I've interviewed probably 15 kids that were born between 1972 and 1985 for the next half of the book, which is raising biracial kids, looking at what worked and what didn't work. So to be half-Iranian and half-Jewish in Arizona is a whole different experience than my kids being half-Korean in L.A. But one of those guys, his dad was a Shiite Iranian and his mom was a red-headed Jewish woman from New York,and he was raised in Arizona. He's like, 'I'm a walking holy war.'
What is refreshing about Kissing Outside The Lines is the Asian perspective, which is often left out of discussions regarding multiracial relationships as Diane says: 'It seems everything about being biracial in America is about black and white. Sometimes I even feel funny to say I'm in a biracial marriage because people are like, 'Oh, he's Asian?' The subtext is, 'Who cares?' You didn't marry a black person. No one's paying any attention to you.'
Whilst many may not agree with Diane's idea that everything is just about black and white there are those who will feel that a book that looks at relationships between Asians and other races has been a long time coming. There can never be enough books written about the highs and lows of relationships be they multiracial or not. One thing is for sure they will be some useful anecdotes we can all identify with.
Source:Tampabay.com