Intermix.org.uk is a website for the benefit of mixed-race families, individuals and anyone who feels they have a multiracial identity and want to join us.

Our mission is to offer a view of the mixed-race experience, highlighting icons, film, books, poetry, parenting techniques, celebrities, real lives and much more.

Our online forums are a great place to meet others, ask questions, voice your opinions and keep in touch. Sign up for our monthly newsletter and delve into our pages.

Want to join in? Become an Intermix member to take part:




Tia Mowry Shares Her Pregnancy With Sister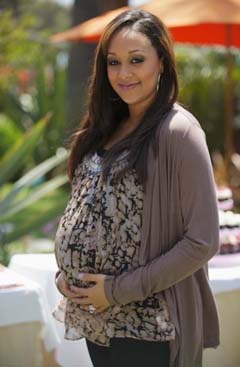 'She secretly thinks my son is her son, too!'
Actress Tia Mowry is well known for playing Tia Landry,
a mixed-race twin separated at birth and reunited with her sister as a teenager in the hit American TV show Sister, Sister. Tia is also the real life twin sister of her co star Tamera Mowry.
Tia, who married actor Cory Hardrict in 2007 is now heavily pregnant with her first child and recently spoke to Reality Wives about sister Tamara's bond with her unborn child.

'Sharing my pregnancy with my twin is the coolest thing in the world,' said Tia. 'Tamera actually gets to live through me vicariously. For example, she now knows what SHE will look like, when she decides to have a baby. That is a treat within itself! I mean, lets be real, growing up, I think all women find themselves standing in front of a mirror with a pillow under our shirts wondering what we would look like if we ever got knocked up, just for kicks and giggles. Well, not Tamera—she just has to look at me!'

'In addition, my sister seems to already be in love with
my son, just as much as I am. [I think she secretly thinks my son is her son, too!] I mean, twins share everything, right? She is always kissing, rubbing, patting, and hugging my belly. She is addicted to the belly! Sometimes, it can be a little bit much—but hey—she gets a pass. She is my twin after all, and she is going to be a great aunt.'
'I have been very honest with her about my pregnancy and its experiences, and now she tells me that I am a good source of birth control! I find it funny how I happen to be the first twin to go through everything. Marriage, and now a baby. So, the plus side to all of this, is that she gets to see what it is like—before she decides to dive in.'
'With that said, I am so relieved I am not having twins. I tell my mother almost every day I can't believe she was able to carry all that extra weight. Having one baby kick you in the ribs is one thing, but two!? Additionally, I am extremely hormonal now with one baby, so could you image double the hormones? That spells double trouble already. To add to the pot of extra hormones, instead of breast feeding one, you are breastfeeding for two, bathing two, hearing two babies cry at the same time, you get the picture. That's a lot of work! Now knowing what my mother went through times two, I give her so much credit. I give ALL moms credit! We are strong, beautiful, and wonderfully-made human beings.'

'Speaking of strength, working while pregnant in my first trimester was killer. I can honestly say it was the most difficult things I have ever had to do in my life. I hid my pregnancy for the first trimester. I was working long 12 hour shooting days on The Game and was exhausted! Nine hours of sleep wouldn't do me any justice. Also while working, I was having crazy bouts of nausea that had me going to the bathroom every few hours. This became routine.Taping a show, working long hours, and being queasy at the same time was definitely a challenge for me. However, it taught me I can do anything I put my mind too and I am one strong cookie. All mothers are!'
Even though my pregnancy has had its up and downs I am so excited about becoming a mother. I cannot wait to see my son's face and just give him a huge kiss! I look forward to seeing the world through his eyes and just providing him the love that he truly deserves. I can't wait to be a kid again and go to parks, amusement parks, and just have great birthday parties. I can't wait for my life to be changed forever!

Tia and Cory's baby is due July 3rd.
Source:RealityWives.net