Intermix.org.uk is a website for the benefit of mixed-race families, individuals and anyone who feels they have a multiracial identity and want to join us.

Our mission is to offer a view of the mixed-race experience, highlighting icons, film, books, poetry, parenting techniques, celebrities, real lives and much more.

Our online forums are a great place to meet others, ask questions, voice your opinions and keep in touch. Sign up for our monthly newsletter and delve into our pages.

Want to join in? Become an Intermix member to take part:




A Girl Like Me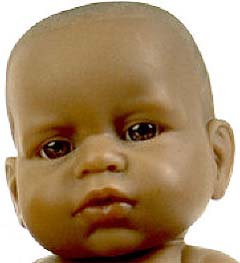 53 years later doll test still disturbing.

When 17-year-old African American student Kiri Davis decided to make a film entitled A Girl Like Me, she had no idea she would ignite a race row in America that many thought was deeply buried.

In her film, Kiri mimicked the work of eminent psychologist and educator Dr Kenneth Clark and his wife, who in 1954, at the bequest of Thurgood Marshall, first African American to serve on the Supreme Court of the United States conducted research with young black children. The research involved showing the children dolls that were identical in every way except for the colour of their skins.

The research produced some very disturbing findings: The children tended towards labelling the black dolls as 'bad' and the white doll as 'good.' He also asked the children which doll looked most like them. Some children said the white doll looked like them, others refused to answer and others cried.
In 1954, the overwhelming majority of black children found themselves in a skin shade which American society had decreed was shameful to wear. Years of conditioning in apartheid America had given its black children white eyes to see through.
Now 53 years later Kiri's film A Girl Like Me shows how little things have changed in America. Kiri interviewed 21 Black children in New York and presenting them with similar dolls asked questions such as 'Which doll do you like to play with? Which is the good doll?' The results were worryingly similar to those obtained by the Clark's with 71% of the children saying they preferred the white doll.

In one segment of A Girl Like Me, which is only eight minutes long, Kiri Davis asks a young girl, 'show me the doll that you like best?" The girl picks the white doll immediately. When asked to show the doll that "looks bad," the girl chooses the black doll. But when Kiri asks the girl, "Can you give me the doll that looks like you?" the girl first touches the white doll and then reluctantly pushes the black doll towards Kiri.

A Girl like Me also features black teenage girls talking about perceptions of race. Two of the girls discuss the "good hair/bad hair" standard, explaining that the more naturally straight the hair, the better quality it is thought to be.

Kiri said the film was very personal. 'I remember when I was little," she said. "People told me I can't be a princess because I was black. All princesses aren't black. These little things get you after a while.'

It would be interesting to see the results of research that included mixed-race dolls and children of other races.

Do black children still prefer white dolls?
Click here to visit the forums and tell us your views:
Click here to watch A Girl Like Me:
Source: