Intermix.org.uk is a website for the benefit of mixed-race families, individuals and anyone who feels they have a multiracial identity and want to join us.

Our mission is to offer a view of the mixed-race experience, highlighting icons, film, books, poetry, parenting techniques, celebrities, real lives and much more.

Our online forums are a great place to meet others, ask questions, voice your opinions and keep in touch. Sign up for our monthly newsletter and delve into our pages.

Want to join in? Become an Intermix member to take part:




Thandie Receives BAFTA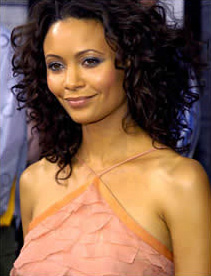 But has nowhere to put it.

British actress Thandie Newton recently won a BAFTA for best actress in a supporting role playing the wife of a film director who is sexually abused by a racist cop in the acclaimed Paul Haggis film Crash.

The award is just reward for Thandie who not long ago turned down a six figure sum to star in Charlie's Angels so she could devote more time to her family. Unfortunately the mixed-race actress didn't have the same success at the Oscar's but then Oscars to women of colour are known to be very thin on the ground.

Apparently Thandie had a problem finding somewhere to put the BAFTA, after all there were no pockets in her slinky evening dress so the smart girl did what most of us do and checked it into the cloakroom.
'People keep on asking me to show them the award,' said Thandie during the evening, 'and I have to explain it's in the cloakroom.'
'I was afraid to put it down somewhere and forget about it or that someone might try to pinch it.'

'So I asked if I could put the award in with my coat and the attendant agreed and gave me a ticket. He promised me he won't flog it behind my back!'



Other links for Thandie Newton:
Crash The Movie
What Thandie has to say about race:
View this months news:
Source: