Intermix.org.uk is a website for the benefit of mixed-race families, individuals and anyone who feels they have a multiracial identity and want to join us.

Our mission is to offer a view of the mixed-race experience, highlighting icons, film, books, poetry, parenting techniques, celebrities, real lives and much more.

Our online forums are a great place to meet others, ask questions, voice your opinions and keep in touch. Sign up for our monthly newsletter and delve into our pages.

Want to join in? Become an Intermix member to take part:




Church Ban Overturned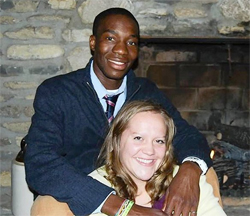 Mixed-race couples now welcome.

An eastern Kentucky church under a firestorm of criticism since members voted to ban mixed-race couples from joining has overturned that decision, saying it welcomes all believers.

The Rev. Stacy Stepp, pastor of the Gulnare Free Will Baptist Church in Pike County, said the previous 9-6 vote had been declared null and void after it was determined that new bylaws couldn't be contrary to local, state or national laws. He said the proposal was discriminatory, and therefore it couldn't be adopted.

Pastor Stepp said about 30 people who attended church services Sunday voted on a new resolution that welcomes 'believers into our fellowship regardless of race, creed or color.'

Dean Harville said he was approached in August by Melvin Thompson, the church member who crafted the resolution to bar mixed-race couples, and was told that his daughter Stella and her Zimbabwean boyfriend Ticha Chikuni were no longer allowed to sing at the church.

Thompson, the church's former pastor, has said he is not racist and called the matter an 'internal affair.'

Pastor Stepp said the Sandy Valley Conference of Free Will Baptists declared the vote on Thompson's resolution null and void during a recent meeting.

He said he told church members about the decision and proposed a resolution to promote 'peace, love and harmony.'

'The resolution to welcome all believers passed unanimously', said Pastor Stepp.



Source:L A Times