Intermix.org.uk is a website for the benefit of mixed-race families, individuals and anyone who feels they have a multiracial identity and want to join us.

Our mission is to offer a view of the mixed-race experience, highlighting icons, film, books, poetry, parenting techniques, celebrities, real lives and much more.

Our online forums are a great place to meet others, ask questions, voice your opinions and keep in touch. Sign up for our monthly newsletter and delve into our pages.

Want to join in? Become an Intermix member to take part:




From Punch To Obama Via Mama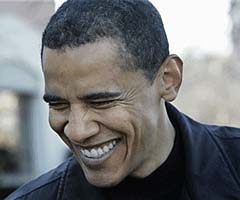 But he's still mixed.

Recently genealogists at Ancestry.com announced there is a strong possibility that Barak Obama is a descendant of John Punch, who in 1640 became the first black person to be legally defined as a slave.

President Obama would be John Punch's 11th great-grandson but what is even more surprising is that the lineage would come from Barak's mother Stanley Ann Dunham who is said to be descended from children John Punch had with a white woman.

Although there is still some doubt that Barak is related to John Punch it has been established beyond doubt that his mother has black ancestry that can be traced back to African slaves.

There has been no comment from the White House so far but genealogosit Joseph Shumway declared:

"John Punch was more than likely the genesis of legalized slavery in America. But after centuries of suffering, the Civil War and decades of civil rights efforts, his 11th great-grandson became the leader of the free world and the ultimate realization of the American dream."

With President Obama up for re-election in a few weeks could this news could help calm the voices of those who don't see him as quite American enough?

As the first mixed-race president of America he's certainly added a bit of colour to the role but there's still so much further to go.

Shame Oprah's not up for the job.
Source:LA Times