Intermix.org.uk is a website for the benefit of mixed-race families, individuals and anyone who feels they have a multiracial identity and want to join us.

Our mission is to offer a view of the mixed-race experience, highlighting icons, film, books, poetry, parenting techniques, celebrities, real lives and much more.

Our online forums are a great place to meet others, ask questions, voice your opinions and keep in touch. Sign up for our monthly newsletter and delve into our pages.

Want to join in? Become an Intermix member to take part:




Hines Ward Creates A Fervour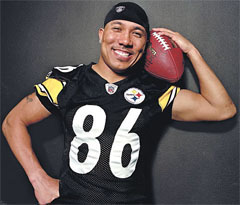 He can now enlist in his country of birth.

When footballer Hines Ward lead his team the Pittsburgh Steelers to victory in the Super Bowl on Sunday he became the most valuable player or the 'MVP' as the football press would put it. But it might not be only just Pittsburgh who gains from this young man's success.

Born in Seoul to a Korean mother and African American father, Hines would be considered bottom of the ladder in the country of his birth where mixed-race people face discrimination and inhospitality due to their mixed background.

According to Pearl S. Buck International (PSBI), the nation's only biracial welfare agency, the number of mixed-race people born from Korean women and American men is about 5,000. Kosians the term for those born to Koreans and other Asians number 30,000.
Lee Ji-young, a PSBI staff member, said. 'Although globalisation accelerates and several multi-ethnic entertainers are gaining popularity, most biracial people in Korea are treated as aliens.'
Some mixed-race actors and singers have scored success such as singer Insooni, who was born from a Korean mother and an African-American father. Actors Daniel Henney and Dennis O, and singer Kim Deanna, all born to Korean mothers and American fathers have also done well.

Research by the National Human Rights Commission said that about 40 percent of mixed-race people have attempted suicide because of discrimination against them in education, employment and marriage.

Hines' success is being closely followed by many South Koreans and is said to be the reason behind the country's recent revision of the military conscription law which until now has strictly forbidden mixed-race Koreans to join the military. Under the revision, young men who were born after 1986 can enter the military if they want, but it is not compulsory. Under the previous law, the military banned men who 'clearly appear of mixed racial background' from serving mandatory military duty out of concern they might have difficulty in fitting in. (yeah right)

Being allowed to join the military can hardly be called a step forward. Although people may pay more attention to multiethnic people following the 'Ward fervour,' critics point out that the nation should not focus on an individual's success story but needs to turn its attention to mixed-race people's human rights.
Apparently The Human Rights Commission is also considering launching a project to abolish discrimination against biracial people. At the time of writing this article intermix.org.uk have no proof of this but we have contacted The Human Rights Commission and will keep you posted.

Korean adoptees rally together:
The Beautiful Country:
Want to be an Intermix Product Tester? Click here to find out more:
View this months news:
Source:Korean Times