Intermix.org.uk is a website for the benefit of mixed-race families, individuals and anyone who feels they have a multiracial identity and want to join us.

Our mission is to offer a view of the mixed-race experience, highlighting icons, film, books, poetry, parenting techniques, celebrities, real lives and much more.

Our online forums are a great place to meet others, ask questions, voice your opinions and keep in touch. Sign up for our monthly newsletter and delve into our pages.

Want to join in? Become an Intermix member to take part:




Prince Albert Acknowledges Son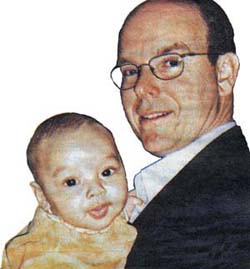 Born out of wedlock to an African mother

Prince Albert II, the ruler of Monaco, has acknowledged that he is the father of an illegitimate mixed-race child. The mother is 33 year-old Nicole Coste, an air steward from Togo. The child named Alexandre was born in Paris on August 24, 2003.

French magazine Paris-Match, broke the 'love-child' story in May, showing pictures of Prince Albert cradling a baby and carrying affirmations from Nicole Coste that the child was the result of a five-year affair with the Prince.

Coste, said she decided to come forward because she 'was afraid Albert would go back on recognising his son... I had a very strict Catholic upbringing and for me it was a disgrace to not be able to tell my family who is the father of my child.'

This is not the first time a little colour has come into the famous royal family. Prince Albert's great grandmother was none other than Marie Juliette Louvet, an Algerian cabaret singer who bore Prince Louis II of Monaco, his only child Princess Charlotte, also out of wedlock.

'Article 10 of Monaco's constitution specifies that only 'direct andlegitimate' descendants can assume the throne -- which would excludeAlexandre. The prince however could adopt Alexandre in the same manner his grandfather Prince Louis II did in 1919 with Princess Charlotte and so make him heir to the throne.
Heir to the throne or not the Prince's acknowledgement of his son will ensure that Alexandre will be well provided for.
Do you think that Prince albert has made the right decision? Should he legally adopt Alexandre? Let us know you views in the forum.