Intermix.org.uk is a website for the benefit of mixed-race families, individuals and anyone who feels they have a multiracial identity and want to join us.

Our mission is to offer a view of the mixed-race experience, highlighting icons, film, books, poetry, parenting techniques, celebrities, real lives and much more.

Our online forums are a great place to meet others, ask questions, voice your opinions and keep in touch. Sign up for our monthly newsletter and delve into our pages.

Want to join in? Become an Intermix member to take part:




Disney's Big Hero 6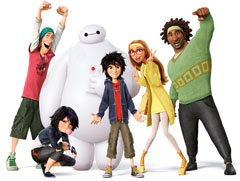 A multicultural family film.

Disney's latest release Big Hero 6 sees the animation film studio feature its first mixed-race lead character. The film is also the first Disney animated feature film to feature Marvel Comics characters, whose parent company was acquired by Disney in 2009.

Big Hero 6 is an origin story, in comic book terminology, that is an account or back-story revealing how a character or team gained their superpowers and/or the circumstances under which they became superheroes or supervillains.

It is set in a futuristic metropolis called San Fransokyo (a portmanteau of San Francisco and Tokyo), and where 14-year-old genius robotics expert Hiro Hamada forms a superhero team to combat a masked villain responsible for the death of His older brother.

Hiro and his brother Tadashi are of American and Japanese parentage and what is refreshing is that the characters are played by Ryan Potter (Hiro) who is father is Japanese and mother is White and Daniel Henney (Tadashi) who is of Korean and Irish American parentage. Nice to see mixed-race characters getting parts, especially when it comes to animation as so often characters are voiced by actors who bear no resemblance to the characters they're playing.

The film has a very multicultural feel with Aunt Cass played by Maya Rudolph daughter of the late and much loved African American singer Minnie Ripperton and Jewish Composer Richard Rudolph. There are also appearances by Damon Kyle Wayans, Génesis Rodríguez and Jamie Chung.

It seems Disney has come a long way from the negative images that once surrounded its founder. According to actress Meryl Streep Disney founder Walt Disney was a racist, misogynist and anti-Semite, and her remarks were supported by the founder's grandniece, Abigail Disney.

These accusations against Disney are nothing new, Amanda Dobbins believed there was some truth to them and points to some of the facts in a piece she wrote for vulture.com.
"These charges stem primarily from the use of racial stereotypes in Disney movies from the 40s: Dumbo's black crows; Fantasia's black servant centaurette; and Song of the South, a movie so offensive that the Disney company will no longer let it be seen in public. Then there is Walt Disney's own behaviour: Gabler cites a meeting in which Disney referred to the Snow White dwarves as a "n****r pile" and another in which he used the term "pickaninny." The book notes that Disney anticipated the Song of the South controversy and attempted to make it less racist with a rewrite and meeting with the NAACP. The meeting never happened, and the movie was released anyway. There was also some controversy about the company's unwillingness to hire minorities at Disneyland. Those are certainly not flattering facts, but they are facts."

That said Black animator Floyd Norman, who worked for Disney during the 1950s and '60s, said, "Not once did I observe a hint of the racist behaviour that Walt Disney was often accused of after his death. His treatment of people—and by this I mean all people—can only be called exemplary"

Almost fifty years after his death the Disney legacy lives on and it seems the company he left behind is working towards a more multicultural outlook

Big Hero 6 is a good film to take the whole family to see and will hit UK cinemas January 2015.


Click here to see the film's trailer:





Source:The College Fix