Intermix.org.uk is a website for the benefit of mixed-race families, individuals and anyone who feels they have a multiracial identity and want to join us.

Our mission is to offer a view of the mixed-race experience, highlighting icons, film, books, poetry, parenting techniques, celebrities, real lives and much more.

Our online forums are a great place to meet others, ask questions, voice your opinions and keep in touch. Sign up for our monthly newsletter and delve into our pages.

Want to join in? Become an Intermix member to take part:




Mixed-Race Irish Seek Recognition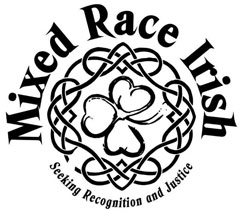 Racist abuse 'airbrushed from history'.

Mixed-Race survivors of institutional abuse in Ireland have called on the Irish Government to recognise the suffering they endured. In an emotional appearance before an Oireachtas committee, the group Mixed-Race Irish told of the devastating impact this institutional racism has had on their sense of belonging and emotional well being.

They believe the alleged racist abuse they experienced in these institutions is being "airbrushed from Irish history" and that few, if any, records exist of mixed-race Irish in any State institutions.
Co-founder Rosemary Adaser told the Justice Committee 'Our research suggests this racism was endemic throughout all the institutions attended by our community.

The nuns showed us films of missionaries going to tame the 'savages', and we were told, 'look at that, they are savages, that's what you are',' she said.

Parish priests 'would single out mixed race children and abuse them,' said Co-founder Carole Brennan. 'We believe we were treated differently, resulting in inequality, in these systems due to one simple fact – the colour of our skin.'

Other experiences revealed by the group included being doused in talcum powder so they appeared white, and being forced to clean blocked toilets as their 'skin was the same colour.'

Members of Mixed-Race Irish, which consists of over 70 individuals in Ireland, the United Kingdom, the United States, and China, have experienced issues around mental health, integration, and substance abuse, as well as continued racist abuse later in life.

Those that were removed from their families are known as the stolen generation and since 1997, May 26 every year is known as National Sorry Day to remember and commemorate their mistreatment. In 2008, the Australian government formally apologized to the stolen generation.

The effect of the such abuse on the lives of members of Mixed-Race Irish can be seen in the horrific statistics gained from survey research on the group.
11% had died young, between the age of 22 and 45
Seven had taken their own life
44% said they were sexually abused
35% had debilitating mental health issues or suffered substance abuse
9% of young men had been incarcerated.
'We are bringing this to your attention because we can no longer tolerate the racial suffering being airbrushed from Irish history, said co-founder Evon Brennan. 'How do we overcome the inherited belief our fathers were savages from the jungle? And our fathers were of low intelligence? To later discover that our fathers were students in law and civil engineering, and contributed to Irish society?'

Labour TD Anne Ferris said mixed race children faced "an extra layer of discrimination" in State-run institutions, and said it was another aspect that should be included in all future investigations.

Committee chair David Staunton said the full details of these events were 'very, very disturbing', and described the group as one of the most impressive he had seen.

The evidence presented to the committee will now be passed on to the Minister.

Editor's Comment
It took a lot of courage for Mixed-Race Irish to bring this to the committee and they shoud have our full support. Whilst it is important to show that mixed-race individuals are like everbody else and not just 'victims' it is also important not to forget the racism and abuse many of us face every day. There is no doubt this can impact very deeply on our sense of belonging and well-being.

I hope this opens the door for more to come forward so the full extent of the obstacles many mixed-race individuals face because of their racial background will be in the open. It is the first step to bringing about real social change but it is not just social change for mixed-race individuals we need real change for all children. The state should be leading the way in giving children a happy balanced home environment when through no fault of their own, children cannot receive that from their parents. If it cannot something is desperately wrong with our society.
Click here to view the committee meeting on youtube:
Click here to hear an interview with Rosemary Adaser on Kildare FM
Source:www.thejournal.ie