Intermix.org.uk is a website for the benefit of mixed-race families, individuals and anyone who feels they have a multiracial identity and want to join us.

Our mission is to offer a view of the mixed-race experience, highlighting icons, film, books, poetry, parenting techniques, celebrities, real lives and much more.

Our online forums are a great place to meet others, ask questions, voice your opinions and keep in touch. Sign up for our monthly newsletter and delve into our pages.

Want to join in? Become an Intermix member to take part:




Same Same A Play By Shireen Mula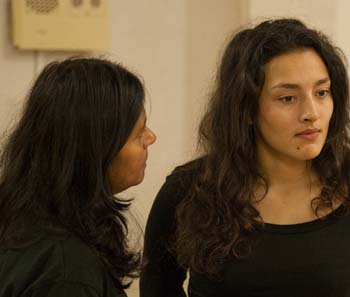 A live lyrical journey about mixed-race identity

An ambitious new play, which explores the hitherto invisible mixed race experience, opens this month as the culmination of Ovalhouse Theatre's autumn season.

Same Same, a lyrical story of regret, longing and mixed-race identity, is set in a dark recess of contemporary London. The play tells the story of a young woman on the eve of her 21st birthday.

Adopted and mixed-race, Asha played by mixed-race actress Zoe Nicole is on a continuing journey to work out who she is. Somewhere else in the same city a British-Indian woman, Nid, played by Bharti Patel is reflecting on the decision she made when she was 21 – a decision that would have an irrevocable effect on the lives of these two women.

It is written by young mixed-race playwright Shireen Mula who was discovered through the Royal Court's "Unheard Voices" programme for young playwrights of muslim descent, and who has been described by playwright Mike Bartlett as 'one of the most exciting writers around right now and a very important writer for the future'.
Mula, who describes herself as a 'third culture kid', was born in Galway, Ireland to an Irish mother and Mauritian father, lived much of her childhood in Saudi Arabia and has spent most of her adult life in London.

Speaking about the play Mula commented: 'Generally the basis for our identity begins with our family – its history and its origin. If the elements of this are unknown and we know nothing of our mother or our motherland then the journey to create a strong self identity can be a hugely complex and difficult one. It is these complexities that are explored in Same Same.'

Director Rachel Briscoe believes this is the perfect time to stage a play about mixed-race identity saying: 'It is ten years since the mixed-race category appeared on the census. It is now the fastest growing ethnic group in the UK. Almost 10 per cent of children in the UK live in a family which describes itself as mixed-race and yet this demographic is still practically invisible on stage and screen where representations of diversity most often manifest in neat communities of black, white or Asian people; the reality is far more complex. While the BBC's Mixed-Race Season has started to redress this invisibility on screen, Same Same explodes these issues onstage: a live lyrical journey through the nuances of Asha's identity.'

Same Same will be performed as part of the Lady-Led Season at Ovalhouse from 22 November to 10 December. For more information and to book tickets visit www.ovalhouse.com or call the theatre box office on 020 7582 7680.
There is also a post show discussion entitled Mixed Feelings on Tuesday 29th November where Playwright Shireen Mula and a panel of experts discuss the complexities of mixed-race identity and its representation in theatre.


Source: