Intermix.org.uk is a website for the benefit of mixed-race families, individuals and anyone who feels they have a multiracial identity and want to join us.

Our mission is to offer a view of the mixed-race experience, highlighting icons, film, books, poetry, parenting techniques, celebrities, real lives and much more.

Our online forums are a great place to meet others, ask questions, voice your opinions and keep in touch. Sign up for our monthly newsletter and delve into our pages.

Want to join in? Become an Intermix member to take part:




Well Done BBC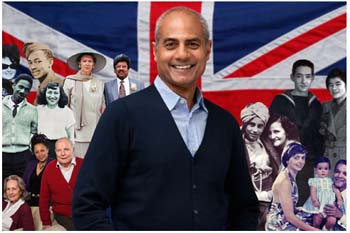 A welcome boost for greater awareness.

I must say I was a little wary when the BBC said they were going to do a mixed-race season. My previous experiences of broadcasters doing anything on the mixed-race experience were often disappointing, I had no reason to believe this was to be any different. I was in consultation with some of those working on the season one person in particular Fatima Salaria sounded promising. From our long conversations I got the impression she really cared and wanted to be true to the cause so to speak.

Even as the programmes were aired I almost didn't want to watch them. That horrible feeling as you sit squirming in your seat knowing that one misguided programme can undo years of work was threatening to return. Still if one doesn't have hope what is the point of it all. I watched the first programme Shirley through squinting eyes for the first 15 minutes. I don't know what I was expecting but it was not what was shown on the screen. I did like it. Ruth Negga fell into the role like it was made for her and I was mesmerised but it was still not what I had been hoping for. There were no references to the obstacles Dame Shirley Bassey faced as a mixed-race performer and there must have been many. That said I still cried, possibly because I know so much was unsaid and despite its flaws Shirley is a part of mixed-race history. I can only hope that it inspires someone else to do a more in depth film of her life.

As the other programmes in the season aired I became more and more hopeful. All those years of trying to get the BBC to make some decent programmes about the mixed-race experience no longer seemed so futile. I'm not sure what made the BBC finally do a mixed-race season I've a feeling Chantal Badjiie had a lot to do with it and maybe the rest of us writing letters and generally giving them a hard time. Whatever the reasons the BBC went the whole hog and didn't make just one programme but six and then to add the icing to the cake they called it the Mixed Race Season. Yes I know they didn't use the hyphen between mixed and race but so what I can live with that. The mere fact they used the term mixed-race to describe a season of programmes is a first in the UK and the BBC being part of the British establishment set a precedent that I'm sure many others will follow. They will be criticised especially by those who don't want the mixed-race community to be seen as a separate entity in its own right but the deed has been done and academics and historians everywhere will be writing papers and creating courses to cash in on the mixed-race market once again. The BBC's Mixed-Race Season has given the movement for greater awareness of the mixed-race experience a welcome boost.

By far my favourite in the season was the three-part miniseries Mixed Britannia. When I first heard George Alagiah was going to present this series I had my reservations. He was not mixed-race and as far as I knew had never shown any interest in mixed-race issues. Indeed one interview I had seen with him portrayed him as being very much disinterested in discussions concerning race at all. When I spoke to him at the launch of the series I was none the wiser and informed him I would be his harshest critic if the programmes were disappointing.

I was very pleasantly surprised. Far from being just another documentary series Mixed Britannia provided us with a very interesting overview of mixed-race history. Yes there were many things left out but it was still the first time we got to hear many so many different stories and over the three one hour episodes I learned much. That surprised me and just goes to show how much information there is still out there that has not been brought into public view.

George made for a good presenter, he was able to identify with the individuals he was interviewing and with the theme of the programmes in general.
Everyone who worked on this series should be proud. These were not the usual sensationalist documentaries we have come to expect, it had more balance and the researchers actually did their work and brought forth new material.

The programmes showed the wide range of racial mixing in the UK and how the mixed-race experience is not just a black and white one. Most importantly it established there were and are mixed-race communities, (something academics are always so quick to deny the existence of) and that the mixed-race experience is a separate entity from the black experience and the white experience but is an important part of both as well as others. Yes we will now pick it to pieces and examine every bit to find fault but that is as is should be, that is how we learn, understand and improve.

Equally brilliant was How Britain Mixed Up The World. Narrated by mixed-race actress Sophie Okonedo, it went into more detail and actually documented the lengths to which some governments including the UK's have gone to try and stop racial mixing. Sadly the BBC did not keep this on Iplayer for very long so there is no link to it if you missed it. Hopefully though it will be repeated in the middle of the night as the Beeb usually do with these type of programmes.

My least favourite was Twincredibles, which looked at mixed-race twins and their families. This could have been a groundbreaking piece of social commentary; it should have been a celebration of love sees no colour. I liked all the mixed-race individuals that took part but I felt the programme concentrated too much on the negative and did not give balanced portrayals. Whilst the other documentaries included a wide range of racial mixes, Twincredibles showed only those with a black and white racial mix and reminded me of documentaries shown in the 80s and 90s. I didn't find this program helpful and squirmed a lot. If I had only seen this programme and Shirley I would have been extremely disappointed with the BBC and complained that they had little understanding of the mixed-race experience but the Mixed Britannia series and How Britain Mixed Up The World proves that there are programme makers out there who feel deeply about balanced, honest and sensitive portrayals.
I was sad that Intermix did not even get a mention especially as my suggestions of a need to show a sense of history and balanced portrayals can clearly be seen as being a factor in How Britian Mixed Up The World and Mixed Britannia. In the end though what is important is that the job gets done.
For all those purists out there who say this is not about the mixed-race individuals experience. You are wrong. All those couples who defied the so called norm helped pave the way regardless of their motives or ensuing actions. Without them there would not be so many of us now. I for one am eternally grateful.

Whilst the BBC may not have intended to, they have made history here, not only in finally correctly using the term mixed-race in a quality programme but in laying down the first televised proof of an existence of mixed-race history and showing it to be intertwined British, Black, Chinese, Asian and everybody else's history. I only hope the BBC are as proud of their work and will bring us another mixed-race season next year. Editor
Click here to talk about the Mixed-Race Season on our forums:
Click here to view programme one of Mixed Britannia:
Click here to view programme two of Mixed Britannia:
Click here to view programme three of Mixed Britannia:
Source: