Angelina Jolie To Play Mixed-Race Widow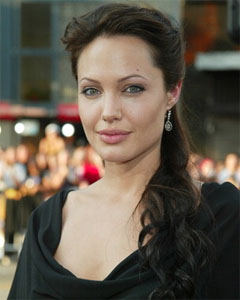 And receives harsh criticism across the internet.

31 year-old actress Angelina Jolie is to play the role of Mariane Pearl, the mixed-race widow of slain Wall Street Journal reporter Daniel Pearl, whose memoir, A Mighty Heart: The Brave Life and Death of My Husband Danny Pearl, will be adapted into a motion picture by Brad Pitt's production company.
The film, simply called A Mighty Heart, will tell of Mariane's experience after her husband was abducted by Islamic extremists in Pakistan in early 2002. A month later, his captors released a video depicting his murder. Mariane, who is reportedly of Cuban and Dutch heritage, was pregnant with their son Adam at the time.
Since the news came out a few weeks ago, message boards across the Internet have been on fire, expressing harsh criticism about Jolie playing the role of Mariane. One user called chantejoy calls the very idea a 'new generation of Hollywood in blackface.'
'With talent such as Halle Berry, Thandie Newton, and Jennifer Beals available – just to mention a few – what is Hollywood's excuse for casting a white woman this time?' She asks. 'Anyone who has seen a photo of Mariane Pearl can tell she is a woman of colour.'
Angelina does have Native Indian Iroquois heritage, which does make her mixed-race in our books.

Of course being with Brad Pitt might have something to do with Angelina being offered the role, rumour has it that Jennifer Aniston was originally going to play the part.
You might think what difference does it make? After all Mariane does have White heritage and indeed would anyone be making a fuss if the part had been given to a black actress?
Well some might. Many mixed-race actresses complain of a lack of good roles on offer, apart from the usual sex worker or maid. Angelina on the other hand has got more important things to do, such as being a mother, a wife and her United Nations work. Maybe it would have been better to give the part ot a lesser known actress.

Come Angelina! give someone else a chance.
What do you think? Click here to visit the forums and give us your views:

View this months news:
Source: