Intermix.org.uk is a website for the benefit of mixed-race families, individuals and anyone who feels they have a multiracial identity and want to join us.

Our mission is to offer a view of the mixed-race experience, highlighting icons, film, books, poetry, parenting techniques, celebrities, real lives and much more.

Our online forums are a great place to meet others, ask questions, voice your opinions and keep in touch. Sign up for our monthly newsletter and delve into our pages.

Want to join in? Become an Intermix member to take part:




There's No Stopping Lenny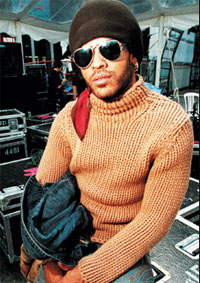 Singer finds other creative outlets.

There seems to be no end to the talents of Lenny Kravitz, already established as a musician, Lenny is branching out and trying his hand at other ventures.

Miami-based Kravitz Design, which he started a few years ago, handles both interior design and architecture with more projects to come. He is currently working on a fashion house and home line.

Lenny says he finds the work interesting and sees it as another creative outlet but says he draws the line at putting his name on things. 'It's what I do when I'm not making records', he recently told the Calgary Sun. 'I'm always designing. I'm making furniture; I'm designing wallpaper or different textiles. So I decided to start a company and do it because I just love it so much.'

Lenny has also added film-making to his repetoire and has co-written Barbecues And Bar Mitzvahs, a semi-autobiographical tale he may also direct.

'It's not a music movie, which is cool,' says Lenny. 'There are no concert scenes or anything. It's about someone in my particular position growing up between two cultures.'
'It isn't a moneymaking venture or an attempt to get a career rolling in Hollywood — it's more of a labour of love and personal expression. If I make money from it, OK, but if I don't, it doesn't matter,' he says 'Anything that I do from this point on is all about exercising the creative being within me.'
With a Jewish father and Bahamian mother there's no doubt Lenny will have a wealth of material to draw upon. 'It's a slice of life of an artist who's looking for love and wants to get married and achieve what his parents have, or what he thinks his parents have,' says Lenny says Kravitz. 'It's about somebody who might have grown up in the same sort of circumstances that I did, racially.'
Lenny is currently working on two new albums to follow his last release in 2004, Baptism.


Do you celebrate all cultures?
Click here to read our helpful feature:

Source: calgarysun.com