Intermix.org.uk is a website for the benefit of mixed-race families, individuals and anyone who feels they have a multiracial identity and want to join us.

Our mission is to offer a view of the mixed-race experience, highlighting icons, film, books, poetry, parenting techniques, celebrities, real lives and much more.

Our online forums are a great place to meet others, ask questions, voice your opinions and keep in touch. Sign up for our monthly newsletter and delve into our pages.

Want to join in? Become an Intermix member to take part:




When I Met Her I Was A 'Jellified Idiot'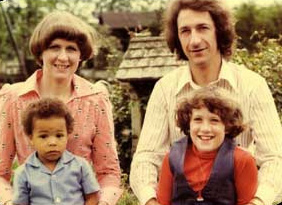 Actor Ben Fellows finds his birth mother.

When Ben Fellows split with his fiancée in 2003 it caused an emotional crisis and got him thinking about the woman who had given him up for adoption because she could not afford to care for him.

Ben knew he was adopted from an early age, being a mixed-race child in a white family, there were bound to be questions. Thirty years later with his adoptive family's blessing he set out on a journey that was to change his life forever.

An actor by profession who starred in episodes of The Chief with Martin Shaw as well as EastEnders and The Bill, Ben moved has behind the camera to make an emotionally-charged documentary of how he found his birth mother. Having also worked on the Cook Report programme on ITV, he used his knowledge of investigative journalism to help him with his task.

Tracking down his mother's last known address Ben was able to find her family records and details of five siblings plus the fact that his mother had been married and divorced. But the real breakthrough came when he put her name into a search engine, and discovered to his amazement that she was also a film-maker, albeit an amateur one. They had even shown films in the same place at different times.
'I wrote quite a detailed letter to her with lots of background,' said Ben. 'A day or two went by and then a hand-delivered letter popped through my door saying 'yes, you were Jonathan Pitt and I'd love to see you'.'
Ben went on to say that he'd wanted to tell his mother at that first meeting how upset and resentful he'd felt at being given away, even though he had enjoyed a loving upbringing from his adoptive family, but this did not happen.

'When I met her I couldn't believe it. It was amazing. All those questions I wanted to ask went out the window. I was a jellified idiot,' he said.

Since that first meeting Ben has met with his mother several times and they now swap birthday and christmas cards. Both Ben's adoptive and birth mothers have seen the film and given it their blessing.

Ben is now considering tracking down his birth father but has decided not to do it in front of the cameras. I Was Jonathan Pitt is being screened at various cinemas around the country and will be screened by Channel 4, although a broadcast date has yet to be decided.


Click here for another useful resource on adoption reunion