Intermix.org.uk is a website for the benefit of mixed-race families, individuals and anyone who feels they have a multiracial identity and want to join us.

Our mission is to offer a view of the mixed-race experience, highlighting icons, film, books, poetry, parenting techniques, celebrities, real lives and much more.

Our online forums are a great place to meet others, ask questions, voice your opinions and keep in touch. Sign up for our monthly newsletter and delve into our pages.

Want to join in? Become an Intermix member to take part:




National Adoption Week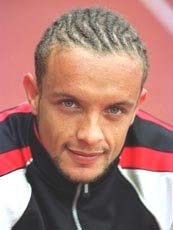 Jamie Baulch, one of the lucky ones.

It seems that you can't open a copy of the black press without coming face-to-face with mixed-race children needing a family to foster or adopt them. Most of us find this distressing and just like the pictures of the starving children of Africa we tend to flick through these pages in fear of having to face up to the misery that lives just beyond our doorstep. There is also the uneasy feeling these children are being paraded like this season's must-have.

However you feel about the tactics used to find adopters the fact remains that these children need our help and most of us choose to ignore their needs. This week is national adoption week but for the many mixed-race children awaiting adoption it will be like any other with little chance of finding a new family.
World athletics champion Jamie Baulch was one of the lucky ones, he was transracially adopted when he was three months old and is living proof that good parents can be from any background. Jamie says, 'I have had lots of inspiration from my parents to allow me to achieve all I have. My adoptive parents are so special and they have made such a difference to my life. I hope that they have found all my success as rewarding as it has been to me.'
Presently 22% of the children on the national adoption register have an ethnic background but only 13% of these will be adopted and it will take on average 200 days longer for suitable parents to come forward for them.

The white child population in the UK stands at 22% but 53% of the mixed-race population is younger than 18 years old. This makes it unsurprising that the pool of mixed-race adopters is much smaller than that for white children in care. For every prospective black or mixed-race adoptive home, there are three children hoping to be chosen, says children's charity NCH who are using National Adoption Week to highlight the urgent need for more people of mixed-race and other ethnic backgrounds to come forward and adopt.

Sue Cotton, Adoption Agency Manager at NCH, says, 'There are many myths surrounding adoption and this often puts extremely good prospective parents off the idea of making enquiries. For example, there is no reason why someone who is gay, or has a grown up family, or is on a low income can not adopt. NCH would be happy to chat informally and in confidence to anyone who would like to consider the idea of becoming an adoptive parent.


Have you thought about adopting? What's stopping you?
Click here to visit the forum and tell us why:
Source: