Intermix.org.uk is a website for the benefit of mixed-race families, individuals and anyone who feels they have a multiracial identity and want to join us.

Our mission is to offer a view of the mixed-race experience, highlighting icons, film, books, poetry, parenting techniques, celebrities, real lives and much more.

Our online forums are a great place to meet others, ask questions, voice your opinions and keep in touch. Sign up for our monthly newsletter and delve into our pages.

Want to join in? Become an Intermix member to take part:




She Transcended Lily White Aristocracy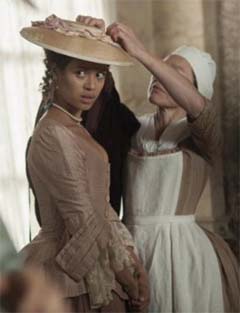 But will we ever really know the real Dido.
For most mixed race actors chances to appear in a period drama are limited to stereotypical ideas of sexual promiscuity, servitude and slavery. Rarely will an actor get to play the rich heiress or the handsome lord. Although there have been a few colour blind castings there is a long way to go before we see a black Mr Darcy or Jane Seymour.

Every now and then a real life dramatisation calls for a mixed-race actor to pull on the finery. Sadly it is not always the case as with the recent portrayal of Alexander Dumas played by Gerard Depardieu but this is the 21st century and things are moving in the right direction if a little slowly.

Now actress Gugu Mbatha-Raw who used to envy classmates from the prestigious Royal Academy of Dramatic Arts when they moved on to perform in lavish English period dramas has landed the part of Dido Elizabeth Belle in the film Belle.

Inspired by the the real life story of Dido Elizabeth Belle, a mixed-race woman who transcended the lily-white aristocracy of 18th-century England. Dido was the daughter of Sir John Lindsay and an African slave woman who died when Belle was young. although the relationship is described as an affair, as Dido's mother was a slave it is doubtful she would have consented to such a relationship had she not been enslaved.

Dido's life with the family although better than that of the slaves is still an existence on the margins of society. She is not allowed to eat with her family during formal functions and must know her place in front other members of white society. So apart from getting to wear fancy clothes Gugu will still be portraying a woman not treated as equal.

Mbatha-Raw says she was 'inspired' by Dido's story. 'To see a brown-skinned girl in this context is very visually arresting. It's important for me to know that this woman really lived and I am thrilled to share that with the world.'

Director Amma Asante knew this was the period piece with a twist she had always yearned to take on. 'This is the story I get to tell from the point of view of a young black female who existed in that time and really wore those dresses and really spoke the language,' says Asante. 'It's a familiar world but never quite seen in this way before.'

Whilst the film is only loosly based on Dido's life the filmmakers have drawn upon numerous sources, including a journal entry from an American businessman at the time who talked about the extraordinary family.

'He said there was a 'negro' female, as he put it at that time, who appeared to have Lord Mansfield wrapped around her little finger and who had the run of the household,' says Asante. 'He made it clear the family was very fond of her.' And we might add Dido was obviously allowed her freedom to the extent that the family and society at the time would allow.
Clearly there is still much to learn about Dido's life but we doubt it is going to come out in this film. Still Dido Elizabeth Belle is a part of mixed-race history and her life being made into a film not only increases awareness of her but also opens up debate as to what other mixed-race individuals have been neglected in the history books.

Whilst playing Dido is a great part for Gugu Mbatha-Raw it would be far more groundbreaking to see her and other actors of colour given parts subjected to colour blind casting. Sadly that is still a long way off.
Belle will be released in the UK next year
Click here to learn more about Dido Elizabeth Belle:
:

Source:USAtoday