Intermix.org.uk is a website for the benefit of mixed-race families, individuals and anyone who feels they have a multiracial identity and want to join us.

Our mission is to offer a view of the mixed-race experience, highlighting icons, film, books, poetry, parenting techniques, celebrities, real lives and much more.

Our online forums are a great place to meet others, ask questions, voice your opinions and keep in touch. Sign up for our monthly newsletter and delve into our pages.

Want to join in? Become an Intermix member to take part:



Congratulations Bradley!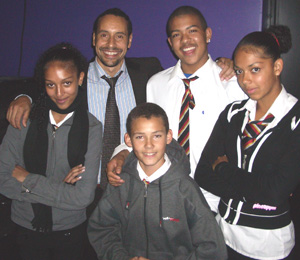 Youth champions efforts rewarded.

Congratulations to founder of The Multiple Heritage Project Bradley Lincoln, who was recently awarded £20,000 from Unltd, a charity supporting social entrepreneurs in the UK.

The Multiple Heritage Project has been breaking new ground running conferences for mixed-race youth around the UK. The conferences offer them the chance to discuss the mixed-race experience and challenge issues such as being expected to choose one racial identity to the exclusion of another; negative labelling such as 'confused' or mixed up, low self-esteem, school exclusions, racial classifications and positive role models.

Bradley was delighted to receive the much-needed funds and said:

'This award, which will make a huge difference to my project and the lives of the young people I work with. The Multiple Heritage Project is trying to tackle an issue which is often overlooked by service providers in education and social care. This will really help the project grow and reach more children in need.'
The latest conference was held in Leicester on March 7 with over 50 mixed-race young people aged between 13-19 years. Participants discussed their feelings about terminology, stereo-typing, their experiences in the education system, racism, and interracial relationships. They also came up with ideas for tackling many of the issues raised.

Well done Bradley!
Click here if you are a parent and would like more information about The Multiple Heritage Project.
Click here to visit The Multiple Heritage Project website:

View other news:
Source:Detnews.com