Intermix.org.uk is a website for the benefit of mixed-race families, individuals and anyone who feels they have a multiracial identity and want to join us.

Our mission is to offer a view of the mixed-race experience, highlighting icons, film, books, poetry, parenting techniques, celebrities, real lives and much more.

Our online forums are a great place to meet others, ask questions, voice your opinions and keep in touch. Sign up for our monthly newsletter and delve into our pages.

Want to join in? Become an Intermix member to take part:




Ingrid Has The Last Laugh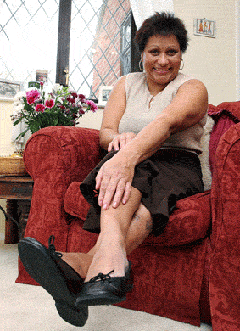 I'd like my own foot please.

Last Christmas, Ingrid Nicholls faced having her foot amputated and the prospect of wearing a false one for the rest of her life. Now after an operation last summer saved her foot, she has been able to put on a pair of shoes for the first time in three years.

Ingrid hit the headlines over a year ago when she was offered a white artificial limb even though she is mixed-race. The mother of three from Calcot, was insulted by the treatment and decided to kick up a fuss.

The resulting nationwide publicity led to questions in the House of Commons about the offending white prosthetic limb and the confirmation of NHS policy which meant no patient would ever be treated the same again.

Ingrid got a second opinion and a consultant told her about the Ilizarov Technique, a method of bonding bones together. The technique, used on Fulham football Club manager Chris Coleman after he was hurt in a serious road accident, involves forcing the ankle bones together to make them bond.

The operation carried out at the Nuffield Orthopaedic Centre in Oxford left Ingrid completely bedridden for two months and unable to put any weight on her left foot, which was held together with 14 metal rods in an ungainly metal frame.

'I was told that the pain would be excruciating after the operation,' said Ingrid, 'but it was nothing like as bad as the pain I had been experiencing for more than two years before that. I had to wear an orthopaedic boot and walking was agony. I was very depressed, I tried not to show it because I didn't want to upset my family, but inside I was desperate.'

Ingrid has been told that she cannot wear high heels but considers that a small price to pay for keeping her foot. She is looking forward to the day she can get rid of the crutches she has used on and off for the past 35 years, since her first operation when she was twelve.

Looks like Ingrid had the last laugh.