Intermix.org.uk is a website for the benefit of mixed-race families, individuals and anyone who feels they have a multiracial identity and want to join us.

Our mission is to offer a view of the mixed-race experience, highlighting icons, film, books, poetry, parenting techniques, celebrities, real lives and much more.

Our online forums are a great place to meet others, ask questions, voice your opinions and keep in touch. Sign up for our monthly newsletter and delve into our pages.

Want to join in? Become an Intermix member to take part:




Mixed-Race Barbie Hits The Uk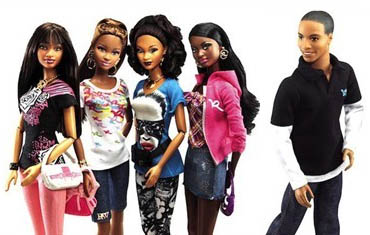 Darker skin and broader noses but the hair's still straight.

Love her or hate her; the Barbie doll is constantly reinventing herself and the latest collection to hit Selfridges will have some of you jumping for joy and others wringing their hands in despair.

The new So In Style dolls feature four mixed-race dolls with authentic looks from their facial expressions down to the clothes they wear.

Reflecting on the times and making 50-year-old Barbie culturally relevant, the dolls strive to show little girls that not only can Barbie take on any career and be anyone she wants to be but also she relates to all cultures and races worldwide.
Unfortunately all of the dolls have straight hair and still have that Barbie look about them but then if you're gooing to buy Barbie dolls you have to expect that. The dolls also have a boyfriend called Darren, who has a little brother Junior to keep him company.
The dolls were designed by Stacey McBride-Irby who said she looked to role models such as Tyra Banks and Beyonce for inspiration. She recently told Made For Mums: 'I think personality is the key point of design and I really incorporated this in my dolls. I wanted to create a story behind the dolls so I brought them from Malibu to Chicago. Each of the dolls have their own distinct personalities. Jayla is a girly girl who loves science and cheerleading, whereas Kara has a passion for art and journalism. They have fuller noses, textured dark hair and darker skin tones, plus they are fashionable and cool, just like their fairer skinned Barbie's.'
What was even more interesting was Stacey's answer to the question: If Barbie was to be portrayed in a Hollywood blockbuster film – who would you want to play her? Her answer: 'Definitely Beyonce. She is a good representation of what Barbie is all about.' Wonder how Beyonce feels about that?
Source:madeformums.com