Intermix.org.uk is a website for the benefit of mixed-race families, individuals and anyone who feels they have a multiracial identity and want to join us.

Our mission is to offer a view of the mixed-race experience, highlighting icons, film, books, poetry, parenting techniques, celebrities, real lives and much more.

Our online forums are a great place to meet others, ask questions, voice your opinions and keep in touch. Sign up for our monthly newsletter and delve into our pages.

Want to join in? Become an Intermix member to take part:




Kit De Waal Gets Penguin Advance For first Novel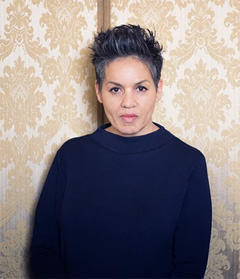 And puts her money where her mouth is.

When Kit De Waal got her first book deal with Penguin, she didn't go out and buy a flash handbag or the latest Dior whatchamacallit.

Kit wanted to change someone's life, give them a
chance and when she funded a scholarship at Birkbeck University in London for a creative writing master's course, with travel, books and computer equipment for the duration of the part-time degree, she has done
just that. Applications are still open so we don't yet know who the lucky applicant will be but we do know they will be either someone from a working class background or who has been marginalised by society
in some way or other.
Kit who is mixed-race herself, is the daughter of an Irish mother who was a foster carer and an African Caribbean father. Being mixed-race and coming into contact with the care system in both her personal and professional life has helped Kit to shape her first novel, My Name is Leon, about two brothers, white Jake and mixed-race Leon, who are separated in foster care.

'I worked for social services for a number of years,' said Kit 'and one of the things I was commissioned to do was to look at the experiences of black children who'd gone to white foster carers, and to write training manuals for foster carers on how best to meet their needs. It might be haircare, skincare, food, taking the children to the mosque. I saw how destructive the care system is for a lot of children. Again, if you look at society's options, they are limited, but certainly more support for parents could prevent more children going into care and allow them to stay with their birth families.'

Siblings were often separated whilst in care in the 80's and more so in racially mixed families where brothers and sisters could often look very different from each other.
'Unfortunately, siblings are separated too often,' said Kit. 'I've been on adoption panels, and sometimes there is no other option.'
Kit is not about sensationalising the often heart-wrenching stories of children in the care system. 'I'm not in the business of exploiting people's tales for a good story, and I wanted to be fair to every character involved, from the children and birth parents to the social workers. I have two adopted children, I know you don't tell those stories casually: it really matters.'

It certainly matters to the thousands of children who are in or have been through the British care system, who need more sensitive and realistic portrayals to help inform us all where we are going wrong.
With mixed-race individuals currently over-represented in the British care system it is imperative that a better understanding of the needs of these children is gained. We can carry on sitting in on conferences and seminars that seem to produce very little in the way of actual benefit to the lives of those most in need or some of us like Kit De Waal can go that one step further and leave a legacy that will keep on giving.
Applications for the Kit De Waal scholarship close on February 15, 2016
My Name Is Leon is published by Penguin and will be available June 2016
You have our respect Kit De Waal.
Click here for more information on the Kit De Waal Scholarship:
Click here to visit the Kit De Waal website:
Source:Birkbeck University News