Intermix.org.uk is a website for the benefit of mixed-race families, individuals and anyone who feels they have a multiracial identity and want to join us.

Our mission is to offer a view of the mixed-race experience, highlighting icons, film, books, poetry, parenting techniques, celebrities, real lives and much more.

Our online forums are a great place to meet others, ask questions, voice your opinions and keep in touch. Sign up for our monthly newsletter and delve into our pages.

Want to join in? Become an Intermix member to take part:




Teens Conference A Hit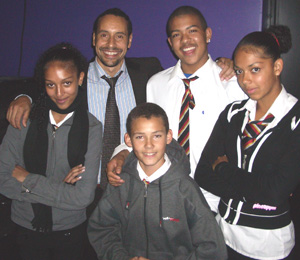 Mixed-race students get a day all about them.

Students from various schools in the Manchester area came together on September 26 at Manchester's Contact Theatre for a one-day conference aimed at those with mixed racial heritage.
The day was the brainchild of Bradley Lincoln of the Multiple Heritage Project, based in Manchester and is the first of its kind aimed at young people in the UK.

As well as meeting others with similar racial backgrounds, participants attended Workshops on the subject of identity and came up with a wish list of changes they would like to see happen.
Top of the list was the attitude of some teachers, with many students feeling that some teachers were always to ready to make assumptions about them and not willing to listen to what they had to say.

Students also wanted to see more about Black and Asian history in the curriculum with more emphasis on positive role models and less on slavery.

Asked if they could come up with a better term to describe themselves, most felt that the term mixed-race was what they were used to and felt happy to carry on using it.

The one-day conference is the first in a series, organiser Bradley Lincoln intends to run with young people around the country, with Birmingham, Bristol and London already confirmed. The Multiple Heritage Project will be compiling a more detailed report on the conference in the next few weeks, look out for more information in our events section.

Intermix.org.uk founder Sharron Hall facilitated at two of the identity workshops and had this to say:

It was wonderful to see so many young mixed-race people finally get a day that was all about them. The students were very attentive and happy to discuss many of the obstacles they faced everyday such as racism and a lack of representation in the school curriculum.

It was clear that many students had never had the opportunity to discuss such issues before and many lacked basic knowledge about their ethnic identity but not all. There were students whose parents had ensured they had a balanced cultural upbringing and that was refreshing.

The conference highlighted just how little has been done to make mixed-race students feel comfortable with who they are and there is clearly much work ahead. I hope this conference has ignited a desire in these young people to learn more about themselves but more importantly I hope that it is the start of a new wave of acknowledgement and education throughout society.


Click here to find out more about The Multiple Heritage Project:
Source: