'Home Is Being On The Outside'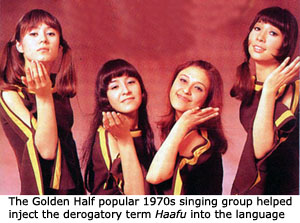 A Foreigner In The Land Of My Birth.

In Japan she is 'haafu' meaning half and although her mother is Japanese, her father's Scottish/Australian background has ensured that Natalie Obiko Pearson will never be seen as Japanese in the country of her birth.
'Am I really Japanese?' Says Natalie, 'never mind that I was born in Japan, that my first language was Japanese, that I've spent three-quarters of my life here. The problem is I don't look Japanese, and that has always foiled my attempts to pass as one in a country that cloaks itself in an impenetrable veneer of homogeneity.'
'My parents never dwelt on the difficulties they must have faced as a couple, but since reaching marrying age myself, I have developed an immense respect for the lonely, if rewarding, life my mother chose. I always had the sense she was fighting all the prejudices as she raised my sister and me -- that if for any reason the marriage failed, she would be fulfilling those stereotypes.'
'By the time I was growing up, the more offensive postwar view of children of mixed race had largely disappeared. The derogatory term 'ainoko' (half-breeds) or its equally loaded successor, 'konketsuji' (mixed-blood child), were of the past.'
The experience of my age demographic is captured more aptly by 'Golden Half,' the wildly popular 1970s singing group that helped inject 'haafu' into the language.
The five women, all of mixed Japanese and Caucasian parentage, were glamorized and exoticized. They were the forerunners of the Eurasian face that continues to sell in Japan -- the 'haafu' seen on fashion magazine covers, as TV personalities, as MTV video jockeys.
Natalie has come a long way to making her peace with Japan after living several years in America where she could pass once she got to know popular culture. She eventually returned to Japan and realised that while her birth certificate says she's Australian and she speaks like an American, she's more at home in Japan than any other country.
It has spurred her to become naturalized as a Japanese citizen; 'many show surprise that I hadn't done so years ago but somehow it seems fitting that I waited until now, after living in both Western and Eastern cultures, and can make a balanced decision.'says Natalie
As for the future Natalie says, 'from now on I'll be living in Latin America, where my appearance, behavior, speech, everything will set me apart as a foreigner. I feel more comfortable on the periphery. Home is being on the outside.
Click here to read a related News Story:
Source:Click here to read the full article