Intermix.org.uk is a website for the benefit of mixed-race families, individuals and anyone who feels they have a multiracial identity and want to join us.

Our mission is to offer a view of the mixed-race experience, highlighting icons, film, books, poetry, parenting techniques, celebrities, real lives and much more.

Our online forums are a great place to meet others, ask questions, voice your opinions and keep in touch. Sign up for our monthly newsletter and delve into our pages.

Want to join in? Become an Intermix member to take part:




Mariah Carey Set To Become Writer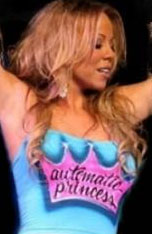 Diva to pen childhood experiences.

35-year-old diva Mariah Carey is all set to capture even younger fans after announcing plans to publish a series of illustrated children's books entitled Automatic Princess.

The books are to be based on the stories of her own childhood experiences as a mixed-race child and will explore the journey of a mixed-race orphan girl.

Automatic Princess is also the name of Carey's upcoming fashion line, which will include clothing, cosmetics, perfumery, personal care items, jewellery, watches, bags, leather items, footwear, headwear, belts, and the list goes on.

Carey is recently celebrated a US No 1 with her latest album The Emancipation of Mimi.