Intermix.org.uk is a website for the benefit of mixed-race families, individuals and anyone who feels they have a multiracial identity and want to join us.

Our mission is to offer a view of the mixed-race experience, highlighting icons, film, books, poetry, parenting techniques, celebrities, real lives and much more.

Our online forums are a great place to meet others, ask questions, voice your opinions and keep in touch. Sign up for our monthly newsletter and delve into our pages.

Want to join in? Become an Intermix member to take part:



Alistair McGowan Finds His Roots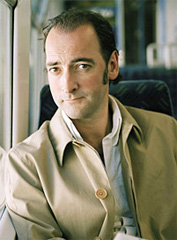 And discovers his dad's big impression.

British comedian Alistair McGowan recently discovered he was mixed-race whilst filming the BBC programme Who Do You Think You Are, which follows prominent people as they trace their families' footsteps back in time, down the generations.

Alistair had no idea there was an Indian connection in his family although he did begin to have some suspicions all was not as it seemed just after his father's death. On his father's birth certificate Alistair noticed the word caste and underneath that the term Anglo-Indian. His father who was born in KolKata had denied he had Indian blood and told his son, 'We were an English family who happened to be living in India'. He also told people that he was slightly dark-skinned because he had spent the summer working in greenhouses.

Famous for his impressions of such figures as Tony Blair and David Beckham Alistair's journey of discovery revealed an Indian and Irish ancestry and lead the 43-year-old comic to announce that maybe his name should be 'Seamus Singh'. A humorous remark considering the obvious emotional effect the discovery was having on him.
Also known as Anglo-Indians many with a mixed Indian and European background were subjected to derogatory categorisation such as half-caste, chawani and kutcha-butcha. India along with many African countries and Australia still regularly use the term half caste to describe mixed-race people.
There is a long history of mixed-race relationships in India, the British and Portuguese believed the children of such unionshelped strengthen their position in the country and the British even went so far as to pay the mothers of mixed-race children on the day the child was christened as encouragement for such unions.
Other famous mixed-race people with a British and Indian background include: Sir Ben Kingsley, Merle Oberon, Freddy Mercury and Englebert Humperdinck

Click here to read more about Anglo-Indian history:
Click here to visit the programme site:

View other news:
Source: