Intermix.org.uk is a website for the benefit of mixed-race families, individuals and anyone who feels they have a multiracial identity and want to join us.

Our mission is to offer a view of the mixed-race experience, highlighting icons, film, books, poetry, parenting techniques, celebrities, real lives and much more.

Our online forums are a great place to meet others, ask questions, voice your opinions and keep in touch. Sign up for our monthly newsletter and delve into our pages.

Want to join in? Become an Intermix member to take part:




Nobody messes with Jessica Alba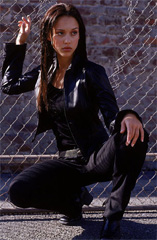 But superheroine admits she's a bit of a klutz.

Nobody messes with Jessica Alba these days but things weren't always easy for the 26-year-old actress who is of Mexican, Danish and French parentage.

'I was bullied really badly at school', she recently told the Daily Mail. 'My dad had to walk me there so I didn't get attacked. I'd eat my lunch in the nurses' office so I didn't have to sit with the other girls. I'd get beaten up and picked on all the time. It was about being different and not fitting in. Apart from my being mixed-race, my parents didn't have money, so I never had the cute clothes or the cool backpack.'

'My brother and I were always the odd ones out as children', she added. 'We lived in the smallest apartment. After leaving the military, my dad worked in different jobs and my mum did all sorts, including working at McDonald's. I went to school with all these rich kids who only knew Mexicans as cleaners or gardeners.'
Viewed by many as a sex symbol, Jessica's looks also took a backseat when she was a child. 'No one gave me a second look when I was growing up. I was the sort of girl who other kids wanted to avoid. I was this incredibly shy, awkward child with buckteeth and a thick Texan accent. I hardly ever spoke up, because I didn't want to draw any attention to myself.'

Jessica is quick to point out that she doesn't see her looks as her most important asset. 'I'd rather slay a guy with my fists than knock him out with the way I look. I know people like what they see and I'm totally happy to dress up and look sexy but I just see it as playing a part. Underneath I'd prefer to be known for something else, like being tough or being smart. It makes me feel far more confident to know I can hold my own in a fight than it does to look in the mirror and think I look beautiful.'
The tough superheroine in the TV series Dark Angel, Jessica does all her own stunts and is trained in kung fu, karate, Thai boxing and gymnastics. 'I'm tough now because as a kid I never fought back', she said. 'I tried to keep everything inside because I didn't want to lower myself to the level of the bullies. I feel so bad for any kid who is getting bullied. I've been there. I know how much it hurts and I know how it affects you.'

In a change from her usual roles Jessica stars with Dane Cook in Good Luck Chuck, a romantic comedy and seems equally as comfortable doing comedy roles as she does doing action. 'I am a total goofball', she said. 'I'm always falling over, messing things up and just generally doing silly things. Comedy comes naturally to me. People think of me as the action girl but in real life I am a bit of a klutz.' Good Luck Chuck comes to the Uk November 9.


Source:The Daily Mail