Intermix.org.uk is a website for the benefit of mixed-race families, individuals and anyone who feels they have a multiracial identity and want to join us.

Our mission is to offer a view of the mixed-race experience, highlighting icons, film, books, poetry, parenting techniques, celebrities, real lives and much more.

Our online forums are a great place to meet others, ask questions, voice your opinions and keep in touch. Sign up for our monthly newsletter and delve into our pages.

Want to join in? Become an Intermix member to take part:




Kim & Wendi Take On Cosmetic Giant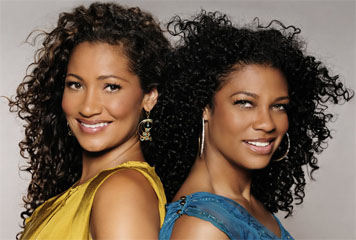 Sally Beauty acted willfully and with malice.

Mixed Chicks, the company that
makes hair products for mixed-race hair have been going since 2003.
They are growing both here and in
the states and whilst they are not
yet in many of the big department stores, they are fast becoming a well known name for those desperate for products that fall between the Black and European lines that don't seem
to cater for mixed-race hair.

Well if funds were the only drawback for world domination look forward to seeing Mixed Chicks products gracing a shelf near you. The duo behind the products Kim Etheridge and Wendi Levy have just won a jury award of more than $8 million in a trademark and trade dress dispute with a multimillion-dollar beauty supply company.

In a David vs. Goliath style case, the duo took on one of the giants of the cosmetics business and won. They were warned they were taking a risk, that the case might be costly and time consuming and the payout might be small but decided the principle was worth fighting for.

Sally Beauty Supply released a product called Mixed Silk that was almost identical to the Mixed Chicks product and even went so far as to redirect customers looking for the Mixed Chicks products to their own Mixed Silk. Mixed Chicks representative Kenneth Parker said: The effect was to deceive and confuse the public'.

After a nine day trial the jury found that Sally Beauty had acted willfully and with malice, oppression, or fraud, resulting in a punitive damages award of $7.27 million.

Kim was delighted and commented:'Others will enter the market, but we're not afraid of competition—as long as it's fair competition, we knew we were in the right, and we're happy we can now move forward.'

Well done girls!
Click here to visit the Mixed Chicks website:
Source:ctlawtribune.com