Intermix.org.uk is a website for the benefit of mixed-race families, individuals and anyone who feels they have a multiracial identity and want to join us.

Our mission is to offer a view of the mixed-race experience, highlighting icons, film, books, poetry, parenting techniques, celebrities, real lives and much more.

Our online forums are a great place to meet others, ask questions, voice your opinions and keep in touch. Sign up for our monthly newsletter and delve into our pages.

Want to join in? Become an Intermix member to take part:




Marie Daulne Is Zap Mama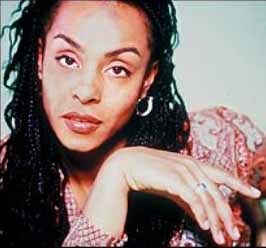 Her father was attacked and killed by Simba rebels, who were opposed to mixed-race relationships.

Marie Daulne, leader of the group Zap Mama, has a mission: to be a bridge between two cultures. She aims to take what she has as a European and what she has as an African and to bring the two races and cultures together through her music.

Using modern recording techniques, Zap Mama blends a variety of world music styles with hip-hop and reggae. Always at the core of the group's music however, is the polyphonic Pygmy song that holds a special place in Marie's heart.

Marie was born in Isiro, Zaire (now the Democratic Republic of the Congo), four years after the country had gained independence. Her father, Cyrille Daulne, was a Walloon (French-speaking Belgian); her mother, Bernadette Aningi, was a Bantu woman from Kisangani.

When Bernadette Aningi became pregnant, Cyrille paid for her dowry. Bernadette's father was not especially pleased. He did not like white people and would have preferred his daughter to marry a black man. But Bernadette was a headstrong person who was determined to marry the man that she loved, even though at the time she was totally unaware of the tragedy that would follow.

Marie was the fourth child to be born into this happy, mixed-race family. But their lives were soon to be thrown into turmoil by a series of tragic events. When Marie was only a week old, her father was attacked and killed by Simba rebels, who were opposed to mixed-race relationships.

Following her husband's murder, Bernadette Aningi fled into the jungle with her children in fear of her life. If the rebels found out that she had married a white man and had mixed-race children, they would have probably killed her too. To avoid suspicion she sent the three older children to the Pygmies, whom she knew the rebels feared because of their reputation for working with spirits. Marie, just a baby stayed with her mother.

Bernadette was in fact arrested by the Simba rebels but was soon set free because she spoke their language. On her release, Bernadette Aningi walked with the tiny Marie on her back to collect the older children from the Pygmies in the east of the country. Helicopters were airlifting all the Belgians, black women who had married Belgians and mixed-race children to safety. Marie's family were airlifted to Kinshasa and then flown to Belgium. It was in this way that they were to discover Europe, their new world. A white world. It was snowing in the month of February when they arrived.