Intermix.org.uk is a website for the benefit of mixed-race families, individuals and anyone who feels they have a multiracial identity and want to join us.

Our mission is to offer a view of the mixed-race experience, highlighting icons, film, books, poetry, parenting techniques, celebrities, real lives and much more.

Our online forums are a great place to meet others, ask questions, voice your opinions and keep in touch. Sign up for our monthly newsletter and delve into our pages.

Want to join in? Become an Intermix member to take part:




Dido Elizabeth Belle - (1763 - 1804)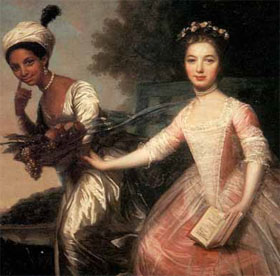 Dido was never treated as an equal member of the family, she did not dine with the rest of the family especially if they had guests.

Dido Elizabeth Belle was born around 1763. Her father was at the time a British Royal Navy captain who late became Admiral John Lindsay and was nephew of the Earl of Mansfield. Little is known of her mother although the story goes that Lindsay captured a Spanish ship and had his way with one of the slaves. It is doubtful that the woman willing gave herself to the captain. It is said that she was his mistress but a mistress must be free to make that choice and as a slave Dido's mother was not free. There is no information as to what happened to her after Dido's birth.

Lindsay sent the Dido to his uncle, the Earl of Mansfield who lived with his family at Kenwood House in Hampstead, England. They were already raising her cousin Elizabeth Lindsay who was about the same age as Dido and had also lost her mother.

It is possible Mansfield took Dido in as Elizabeth's playmate and, later in life, her personal attendant.

Dido was never treated as an equal member of the family, she did not dine with the rest of the family especially if they had guests, but joined the ladies for coffee afterwards. As she grew older, she took responsibility of the dairy and poultry yards at Kenwood. She received an annual allowance of £30 10s (Elizabeth received around £100, but £30 10s was several times the annual wages of a female servant).

A 1779 painting by Johann Zoffany shows the two cousins together and now hangs at Scone Palace in Scotland and is owned by the present Earl Mansfield.

Elizabeth married and left the estate in 1780 at the age of 20. When Dido's father died, he left her £1000 in his will and asked his wife Mary to take care of her. Mary Lindsay's later will does not mention Dido. Lord Mansfield, in turn, left Dido £500 and £100 annuity in his will and officially confirmed her freedom.

Dido's later life is mostly unknown. According to genealogist researcher Sarah Minney, in 1793 Dido married a steward named John Davinier and they had three sons.

Dido Elizabeth Belle died in July 1804. She was buried in the St George Hanover Square burial ground.

An exhibition at Kenwood House in May 2007 will reveal the story of Lord Mansfield and his niece, Dido Elizabeth Belle.